How to plan a back-to-school lunch menu
Another school year is right around the corner. Are you ready? Check out these simple tips for planning a back-to-school lunch menu that will keep you and your kids happy and healthy.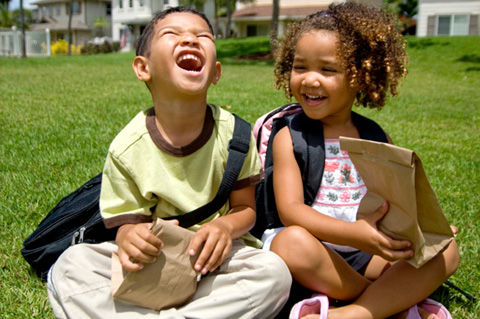 Choosing wisely
Stick to your grocery list when shopping for your kids' lunches. Map out your list before heading to the store to avoid buying processed foods with additives and high sugar content. Include a variety of healthy options to keep your kids excited about their school lunches. Always be sure to buy plenty of each item to avoid the "What am I going to pack today?" problem. Plan ahead!
Pump up the proteIn
Give your kids the energy they need to stay full and focused at school by including a lean protein in your child's lunch. Try lean deli meats, hard-boiled eggs or low-fat string cheese. For a fun idea, create a kid-friendly mini pizza with lean Hormel pepperoni.
Easy-to-eat fruits + veggies
One thing is for sure -- fruits and veggies should always make an appearance in your kid's lunch, but how do you get them to eat them? Ensure your kids will love their fruits and veggies by making them easy to eat! Wash fruits and veggies immediately after coming home from the grocery store so they're ready to eat. Slice apples and pair with a low-fat yogurt sauce or serve snap peas with a low-fat ranch dip. Dice or cube harder fruits and veggies for easy eating.
Hydrate the healthy way
Avoid the last minute urge to throw a soda into your child's lunchbox. At the beginning of the week, prepare fruit water with fresh lemons, limes and oranges and pour into small water bottles. Or try iced green tea with strawberries for a fun twist. Not only are water bottles more eco-friendly, but fresh water with fruit is much better for hydrating your kids than sugary sodas.
Prepare it early
Bento boxes are one of our favorite ways to send kids off to school prepared with a fun and healthy lunch! Made with individually portioned containers, bento boxes help you prepare lunches early, stack in the refrigerator and grab in the morning! Simple airtight containers in a lunch pack will also work. The key is prepping lunches the night before so they're ready for those early mornings.
Variety is key
Planning ahead means you'll have time to add some variety to your kids' lunches. Peanut butter and jelly gets boring every single day, so spice things up with a turkey and hummus pita or rice cakes with peanut butter and raisins for a sweet surprise. Keep a magnetic notepad on the refrigerator to jot down some lunch ideas for your next grocery visit.