5 Festive back-to-school family dinner themes
Celebrate back-to-school season with these festive family dinner themes. It's not always easy to get your kids to eat their dinner, but you'll be sure to lure your little ones to the table with these creative and kid-friendly dinner ideas. Turn any meal into an exotic adventure and start the school year right!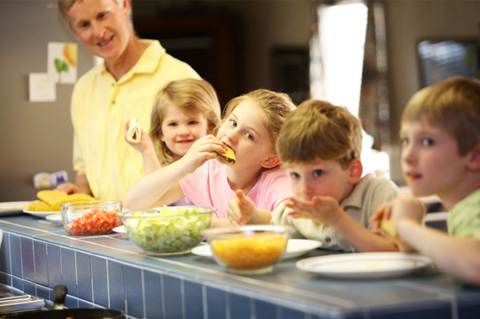 A night at the restaurant
Transform your kitchen into a darling dinner café. Dim the lights, bring out a checkered tablecloth, light some candles and let the fun begin. If you have preschool-age children, have them help you draw up some homemade menus with pictures of the foods you are going to offer. Something simple like Spaghetti with Meat Sauce, garlic bread and salad might be a good choice. Your little ones will get a kick out of pretending to be waiters while they serve your older school-age children. The whole family will enjoy an "evening out" at the restaurant.
Taste of Thailand
Take a trip across the ocean for an exotic taste of Thai cuisine. It will be a cinch to make this easy recipe for Thai Chicken with healthy brown rice. Sip traditional Thai Mango Juice in tall cups over ice. For a healthy after-dinner treat, try some delicious green tea ice cream.
Make your own pizza night
There's nothing more fun than Make Your Own Pizza Night! Prepare this easy recipe for Homemade Pizza Crust ahead of time. Divide the dough into 3-inch balls that the kiddos can roll out on the table themselves. Have lots of healthy toppings available like green peppers, red peppers, artichoke hearts, chunks of pineapple, olives, red onions, garlic, tomatoes, pepperoni, sausage, marinara sauce and fresh-grated mozzarella cheese. Let everyone assemble their own mini masterpiece and then cook for 10-15 minutes at 450 F. Serve with a yummy chopped salad and voila! Dinner is served.
| | |
| --- | --- |
| | Getting kids involved with cooking is a great way to get them interested in the meal (and more willing to try new flavors!). Break the recipe down into simple steps and invite your little ones to join you. |
Indian adventure
Sample the spicy and delicious flavors of Indian cuisine. While you whip up this tasty recipe for Fish Fillets in Curry Sauce, your kids can pull out the ingredients to make Frosty Pineapple Lassis. Serve the fish curry with a side of basmati rice and Naan. Your Indian adventure is complete!
Mexican fiesta
Everyone will love a trip across the border for a Mexican Fiesta. Set the mood with some of your favorite salsa jams and let the fiesta begin! These sumptuous Chicken and Cheese Enchiladas with a side of Spicy Black Beans and Rice will melt in your mouth. Fresh veggie wedges like carrots, peppers and celery taste great dipped in this Low-fat Guacamole. As a special treat after dinner, cool off in the backyard with a batch of Mexican Aguas Frescas outfitted with tiny umbrellas. If you listen closely, you can almost hear the waves lapping at the shore. Ahhhhhhh…
Dessert idea
Learn how to make Green Tea Ice Cream to serve at your Taste of Thai Night!