Independence Day grilling recipes
Fire up the grill for your fireworks' feast and serve your Fourth of July party guests this Independence Day grilling menu. Featuring a gourmet grilled appetizer, succulent meat, and an easy yet impressive vegetable side dish, this patriotic meal will make your summer holiday gathering mouth-wateringly memorable.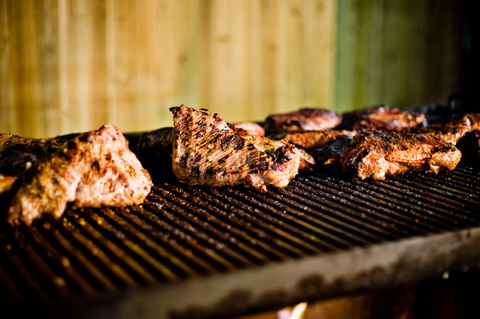 Whipped Goat Cheese Bruschetta with Strawberries
Serves 8
If you're a fan of celebrity chef Jon Ashton, you'll love serving this grilled bruschetta as a first course for your Independence Day gathering along with Chef Ashton's wine recommendation of Graffigna Centenario Pinot Grigio 2010. This pinot grigio's crisp acidity deliciously balances the rich goat cheese and complements the ripe, juicy berries.
Ingredients:
1/2 cup olive oil, plus extra for the toast
2 heads garlic, cloves separated, peeled
1 sprig fresh thyme
1 bay leaf
1 (8 ounce) package goat cheese
1 sourdough bread baguette, sliced
1 pinch Celtic sea salt
1 pint strawberries, hulled and sliced (about 2 cups)
1/4 cup balsamic glaze*
1 tablespoon finely chopped fresh mint
Directions:
Pour the oil into a pan over medium heat and add the garlic. Cook until the garlic is lightly colored, then add the thyme and bay leaf. Turn the heat to low and cook, stirring occasionally, until soft.
Let garlic mixture cool slightly, then beat together with the oil in the pan to form a paste. In a small bowl, whisk the goat cheese until light and fluffy.
Brush the sourdough with olive oil, season with Celtic sea salt and toast on the grill.
To serve, spread a little garlic purée, smear some whipped goat cheese over that, and top with strawberries.
Drizzle balsamic glaze over the strawberries and add a sprig of mint for a final touch. 
*Cook's note: Balsamic glaze is balsamic vinegar that has been simmered and reduced down to a syrupy consistency. Place 1 cup of balsamic vinegar in a small saucepan over medium-high heat and bring it to a boil. Reduce the heat slightly and cook until the sauce reduces to 1/4 cup.
Grilled Onion and Potato Skewers
Serves 8
One of my favorite must-reads this season is Rick Browne's cookbook The Ultimate Guide to Grilling (Skyhorse Publishing, June 2011), a tasty compendium of impressive yet easy to fix grilling recipes ranging from steaks to lobster, tofu to apples, main course meals to side dishes, and tantalizing sauces and marinades. This grilled veggie skewer recipe is adapted from The Ultimate Guide to Grilling; it is the perfect side to grilled meats and a real treat if you have vegetarians at your Fourth of July feast.
Ingredients:
1 pound peeled boiling onions
1 pound small new potatoes, unpeeled
Salt and pepper to taste
1/4 cup olive oil
Brochette sauce:
3 tablespoons extra-virgin olive oil
1 tablespoon white wine vinegar
1 tablespoon fresh cilantro, torn
1/4 teaspoon lemon zest
1/4 teaspoon ground coriander
1 clove garlic, crushed
1 teaspoon whole grain mustard
Salt and pepper to taste
Directions:
In a large pot over high heat, boil onions in 3 to 4 cups of water until the outside layer is tender, approximately 10 minutes. Drain.
Put another 3 to 4 cups of water in the pot and boil the potatoes over high heat until they are tender, approximately 10 to 15 minutes, drain, then cut them in half.
Alternate onions and potatoes on stainless steel skewers. Lightly brush with olive oil and sprinkle with salt and pepper. Barbecue over medium coals, or gas (450 to 550 degrees F), until the vegetables are heated through, 6 to 8 minutes.
Meanwhile, combine all the dressing ingredients together in a Ziploc bag. Brush the vegetables once with the sauce just before removing from the grill.
Transfer skewers to a serving platter and pour remaining sauce over the top, serve immediately.
4th of July Spice and Garlic Tri Tip
I have a strong mouthwatering affinity for tri tip since my dad has long been the Grill King for tri tip and pretty much every other meat, poultry, and fish, dating back to when I was a kid. Grill up this tri tip recipe and serve succulent slices of the meat in hearty sandwiches for your Fourth of July party.
Ingredients:
6 cloves garlic, smashed
1 onion, finely chopped
1/2 cup olive oil
1/3 cup A-1 sauce
1 cup red wine
1 teaspoon salt
1/2 teaspoon freshly ground black pepper
1 teaspoon cayenne pepper
2 teaspoons dried Italian seasoning
4 pound tri tip beef roast
Directions:
In a large bowl, whisk together garlic, onion, oil, A-1, wine, salt, black pepper, cayenne, and dried Italian seasoning.
Place tri tip in marinade and let marinate for 4 to 6 hours, turning occasionally.
Remove tri tip from marinade and pour marinade into a small saucepan and bring to a boil. Boil for 10 minutes and then let cool.
Preheat one side of the grill to medium-high heat. (For a charcoal or wood fire, arrange briquettes or wood on the side of the grill and fire until a medium-high heat is achieved.)
Place tri tip over direct heat for 5 to 6 minutes, flip, and grill for another 5 to 6 minutes. Move tri tip over indirect heat and cook for 1 hour, or until the meat is evenly browned and the internal temperature is 135 to 140 degrees F.
Wrap tri tip in foil and set aside for 20 minutes, or until the internal heat reaches 145 degrees F, or to desired doneness. Unwrap and let sit for 10 minutes before thinly slicing for sandwiches.
---
More From SheKnows Explorer
---
---