Crafty kid-friendly 4th of July treats
Whether you're planning a grand Fourth of July gathering, or simply want to celebrate the spirit of Independence Day with your kids, the following red, white, and blue food crafts are fun projects to do with your kids and make incredible edible décor for your pre-fireworks' feast.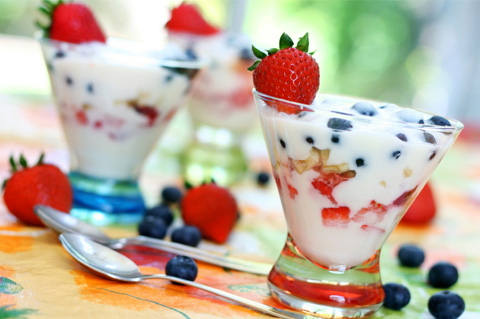 4th of July Cookie Bouquet
This is a simple holiday craft that can be repurposed for every occasion. This recipe is for a large flower pot that can be used as a table centerpiece (and dessert), but you can make an assortment of cookie bouquets in smaller pots to give as parting gifts for Fourth of July guests.
Ingredients:
1/2 (16 ounce) package refrigerated sugar cookie dough
10 to 12 craft sticks or popsicle sticks
2- to 3-inch star cookie cutters
1 (14 ounce) bag Wilton's white candy melts (or white candy coating)
Red sugar
Blue sugar
Curly red, white, blue, and silver ribbon
1 (10-inch high) terra cotta flower pot
8-inch square or circle of Styrofoam
Directions:
Preheat oven to 350 degrees F.
Let your kids roll the dough out to 1/4- to 1/3-inch thick and use cookie cutters to cut dough into 10 to 12 star-shaped cookies.
Kids can place the cookies on 2 large baking sheets and insert a stick into each cookie. Bake according to package directions. Remove and let cool on the baking sheets.
Meanwhile, heat white candy in a double boiler, stirring often, until candy is melted and smooth. Let cool but not harden.
Transfer cooled cookies to a large sheet of wax paper and let your kids spread cookies with a thin layer of melted white candy.
Let the kids sprinkle red and blue sugar onto the cookies as desired. Allow candy coating to set.
Kids can tie ribbons around the cookie sticks while you place the Styrofoam inside the flower pot, pressing it so it is well anchored.
Let your kids press cookie sticks into Styrofoam at varying heights and adding more ribbon to fill in any gaps.
Independence Day Berries
Berries are an easy ingredient for the Fourth of July because of their blue and red hues. Add white candy coating and you've got a kid-friendly holiday treat. (Hint: Blackberries are a dark purple-blue, larger, and easier than blueberries for dipping.)
Ingredients:
2 pints strawberries, washed, patted dry
1 pint large blackberries, washed, patted dry
2 cups chopped white candy coating
Red sugar
Blue sugar
Directions:
Pat berries dry -- make sure they are very dry since any moisture can interfere with the adherence of the candy coating.
Melt candy coating in a double boiler, stirring often, until smooth. Let cool slightly.
Let your kids use a dipping tool or a long fork to dip half of the berries into the white candy, then dip the ends of the berries in the colored sugar. For the most patriotic look, dip strawberries into blue sugar and the blackberries into red sugar.
Set the berries on waxed paper to let candy coating harden.
Patriotic Parfaits
This is another berry-licious Fourth of July dessert that you can serve all summer long.
Ingredients:
2-1/2 cups blueberries, washed, patted dry
20 ounces vanilla or honey flavored Greek yogurt
1-1/2 cups raspberries, washed, patted dry
1 cup crushed graham crackers
4th of July stickers or decals
Small American flags
Directions:
Set 6 champagne flutes or small clear glasses on the counter.
Let your kids layer blueberries, yogurt, raspberries, and sprinklings of graham crackers into the glasses.
Have your kids decorate the glasses with stickers and stick 1 or 2 American flags in the top.
Keep refrigerated until ready to serve. If making ahead, sprinkle extra graham cracker crumbs on top before serving, for a little added crunch, since crumbs will get soft over time.