Easy, breezy Mother's Day barbecue recipes
Take your Mother's Day celebration outdoors to enjoy the beautiful spring weather and great grilled meals. These Mother's Day grilling recipes are ideal for the family who loves fuss-free backyard barbecues.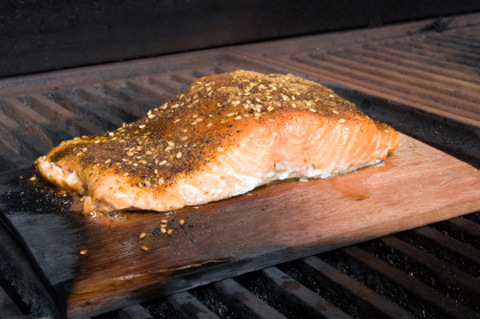 Cedar Plank Grilled Salmon with Orange Honey Glaze
Serves 8
Ingredients
1 cedar grilling plank
1 cup fresh squeezed orange juice
3 tablespoons finely grated orange zest
Pinch of salt
Freshly grated black pepper to taste
2 tablespoons honey
1/2 teaspoon dried oregano
1 (2-pound) salmon fillet
Directions
Soak cedar plank in a salted water for 2 hours.
Prepare grill for indirect grilling and preheat to medium-high.
In a small grill-safe pan, whisk together orange juice, zest, salt, pepper, honey, and oregano. Place pan on the grill and bring to a boil. Cook until liquid is reduced by half.
Lightly oil the cedar plank. Set salmon fillet on top and brush with orange glaze.
Set plank in the grill and close the lid. Cook for 15 minutes.
Open the lid and use a sharp knife to cut the fillet crosswise into 8 pieces. Brush again with glaze.
Close the lid and continue to cook for 10 to 15 minutes or until salmon is cooked through. Serve hot.
Grilled Broccoli and Couscous Salad
Serves 8
Ingredients
4 equally-sized heads of broccoli
3 tablespoons olive oil, divided
Salt and freshly ground black pepper to taste
3 to 4 cups cooked whole wheat couscous
1/4 cup finely chopped fresh parsley
1/2 cup almond slices
1/2 cup dried currants
Juice and grated zest of 1 lemon
Directions
Preheat grill to medium-high heat.
Slice broccoli lengthwise into thick strips. Brush with some of the olive oil and season with salt and pepper.
Oil the grill grate and grill broccoli, turning every 2 minutes, until tender and lightly browned.
Meanwhile, in a large bowl, combine couscous, parsley, almonds, currants, lemon juice, and zest. Stir in remaining olive oil.
Chop broccoli and stir into couscous. Season with salt and pepper. Serve warm or chilled.
Grilled Mango Blossoms with Vanilla Ice Cream
Serves 8
Ingredients
4 ripe mangoes
1 tablespoon olive oil
Generous pinch of sea salt
2 pints vanilla bean ice cream
Directions
Preheat grill to medium-high heat.
Slice the mango "cheeks" from the pits. Score the mango flesh lengthwise and crosswise, slicing through the flesh but not through the peel.
Brush mangoes with olive oil and season with salt. Grill until grill marks form and mangoes are hot.
Scoop ice cream into 8 dessert bowls. Use your fingers to open each mango half to form a "blossom" and set in the bowl next to the ice cream. Serve immediately.