Crafty Easter treats the kids can make
In addition to letting your kids hunt for decorated Easter eggs, get them in the kitchen to make these kid-friendly Easter treats.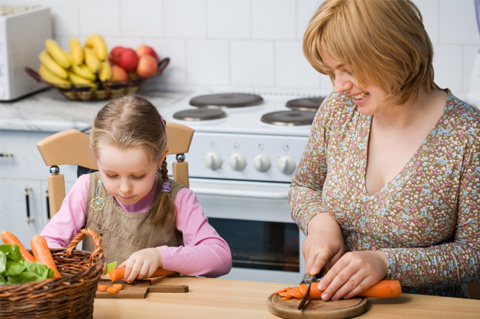 Peeps Wreath
Instead of handing your kids a basket of Peeps to eat, have them first turn the sugar-fluff Peep bunnies into a pretty wreath. Since this craft calls for hot glue, it is not edible. However, you can use icing to put Peeps in place if you plan to eat the wreath. (There are many more crafts you can do with Peeps, visit Just Born Candy Company Crafts.)
Ingredients
3 (12-count) Bunny Peeps, each a different color
1 large square of cardboard to cut out a 14-inch circle
1 (6-inch) piece of 2-inch-wide ribbon
Hot glue gun with glue sticks
Directions
Let your kids remove bunnies from packaging and separate them, lining them up on your work surface.
Draw a 14-inch circle on the cardboard. You or your oldest child can cut out the circle using scissors. Draw a 12-inch circle on the 14-inch circle and cut along the line to create a 14-inch ring. Lay this on the work surface.
Use a hole puncher to make a hold in the ring. Thread the ribbon through the hole and tie the ends of the ribbon in a knot. You'll hang the wreath using the ribbon.
Let your kids decide the order of different colored bunnies to put on the cardboard ring.
Using the glue gun, help your kids glue bunnies, side by side, all the way around the ring.  Affix bunnies close together because they will shrink as they dry. You will have a few bunnies leftover. (What's a Peep craft if you can't eat a few, right?)
Set the wreath aside to dry overnight. Pick the wreath up and see if any bunnies are loose. If they are, simply reglue them and let the glue set.
Hang your wreath on the door or a wall as fun and colorful Easter décor.
Baby Chick Cookies
You can bake a batch of your favorite crisp cookie or buy a package of ginger snaps to make this cute edible Easter craft.
Ingredients
2 dozen medium-sized homemade cookies or store-bought ginger snaps
1 cup packed shredded coconut
Natural yellow food coloring
1 cup white cake frosting or icing
48 mini chocolate chips
24 candy corn
Directions
Lay cookies on a flat surface.
Place coconut in a medium bowl and add a few drops of yellow food coloring. Stir until coconut is tinged yellow. Add a few more drops of coloring to darken the color, if desired.
Stir a few drops of food coloring into the icing until it is light yellow.
Let your kids spread the top of each cookie with a layer of frosting and sprinkle with coconut, gently patting coconut down to adhere to the frosting. You don't need to firmly press coconut down against the cookie; you want it to look like fluffy feathers.
Have your kids place 2 chocolate chips on each cookie to serve as eyes and then set a candy corn in the middle of each cookie to serve as a beak. Cookies are ready to eat!
Bunny Face Crackers
Kid-friendly Easter treats don't have to be sweet. You can turn whole grain crackers, veggies, and cream cheese into a healthy edible Easter eat.
Ingredients
16 large, round whole grain crackers
4 ounces cream cheese, softened at room temperature
1 carrot, cut crosswise into 2-inch pieces
6 radishes, trimmed, sliced into 32 thin circles
32 raisins
1 small zucchini, cut into match-sized pieces
Directions
Lay crackers on a flat work surface.
In a bowl, stir cream cheese until smooth.
Let your kids spread the top of each cracker with cream cheese, covering the entire surface.
Use a vegetable peeler to shave carrots, lengthwise, until you have 32 thin strips of carrot. Have your kids arrange these as bunny ears on each cracker.
Let your kids arrange the radish slices as bunny cheeks, raisins as bunny eyes, and zucchini sticks as whiskers. Bunny crackers are ready to serve.