Kid-friendly vegetarian breakfast recipes
Not only is breakfast the most important meal of the day, you can turn it into a delicious opportunity to introduce plant-based recipes into your family's diet. Studies show that diets high in fruits, vegetables, whole grains, nuts, seeds, and healthy fats can reduce the risk of obesity, heart disease, diabetes, cancer, and other chronic illnesses. You don't have to completely give up meat and adopt a vegetarian lifestyle, but you can certainly reduce your family's meat consumption by serving these tasty, kid-friendly vegetarian breakfast recipes.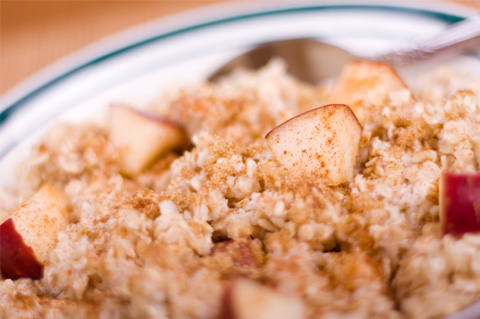 Banana Chocolate Stuffed French Toast
Serves 4 to 6
Treat your kids to a healthy vegetarian breakfast that tastes like dessert.
Ingredients
6 eggs
1 cup low-fat 2% milk
1/2 cup coconut milk
Juice and 1 tablespoon finely grated zest from 1 orange
2 teaspoons pure vanilla extract
1 teaspoon ground cinnamon
Pinch of freshly grated nutmeg
Pinch of salt
8 slices whole grain bread
3 small bananas, peeled, sliced
1/4 cup mini chocolate chips
3 tablespoons coconut or canola oil
Pure maple syrup
Directions
In a large shallow baking dish, whisk together eggs, milks, orange juice, zest, vanilla, cinnamon, nutmeg, and salt.
In batches, place bread in baking dish in a single layer and let soak for 5 minutes.
While the bread is soaking, preheat a griddle to medium.
Remove a piece of bread from the egg mixture, allowing the excess to drip off. Place bread on a cutting board, top with banana slices and sprinkle with chocolate chips. Cover with another piece of bread. Repeat with remaining slices of bread.
Brush the griddle with oil. Cook sandwiches until the bread is golden, 2 to 4 minutes per side. Flip, press and cook on the other side until golden.
Slice stuffed French toast in half and serve with maple syrup.
Overnight Whole Grain Hot Cereal
Serves 4 to 6
Instead of slaving over a pot stirring whole grains for breakfast, cook them while you sleep in your slow cooker. Quick cooking, refined grains may be ready in minutes, but they don't have near the vitamins, minerals, fiber, texture, and taste that whole grains deliver.
Ingredients
1/2 cup wild rice
1/2 cup quinoa flakes or steel-cut oats
1/2 cup pearl barley
1/2 cup wheat berries
Juice and finely grated zest from 1 orange
1-1/2 teaspoons ground cinnamon
1/2 teaspoon ground cloves
1/4 teaspoon ground nutmeg
2 tablespoons packed dark or light brown sugar
Pinch of salt
1 cup mixed dried fruit of your choice (raisins, chopped apricots, blueberries, etc)
Coconut milk, soymilk, or regular milk
Directions
The night before, place all ingredients except milk in a slow cooker and stir in 6 cups water. Cook on low for 8 hours or on high for 6 hours, depending on your sleep schedule.
Serve hot with milk.
English Muffin Breakfast Pizzas
Makes 6 mini-pizzas
Yes! Pizza for breakfast! Healthier than slabs of cold pizza leftovers from the night before, these mini-pizzas are topped with eggs and veggies.
Ingredients
3 whole wheat English muffins, split
1 tablespoon olive oil
3/4 cup finely chopped mixed vegetables (peppers, mushrooms, onions, broccoli, etc)
5 eggs
1/2 teaspoon dried Italian seasoning
Salt and freshly ground black pepper to taste
1 cup shredded mozzarella cheese
Directions
Preheat oven to 400 degrees F.
Heat oil in a large skillet over medium heat. Add vegetables and cook, stirring often, until just tender.
In a medium bowl, lightly beat eggs and Italian seasoning. Pour into skillet and shake skillet to distribute egg.
Cook for 1 minute then run your spatula through egg mixture 2 to 3 times to allow uncooked egg to run underneath to the bottom of the pan. Cook for 1 minute.
Continue to cook and stir until egg is just cooked through.
Top English muffins with egg mixture and place them on a baking sheet. Sprinkle with cheese.
Place in the oven and cook for 10 minutes or until cheese is bubbly and lightly browned.
More vegetarian breakfast recipes
Vegan breakfast recipes
Dairy-free, egg-free breakfast recipes