The best kid-friendly breakfast recipes
To bring awareness to National School Breakfast Week (March 7 – 11), we've rounded up our favorite reasons to eat breakfast and the best kid-friendly breakfast recipes to help your family start the day healthfully well-fed.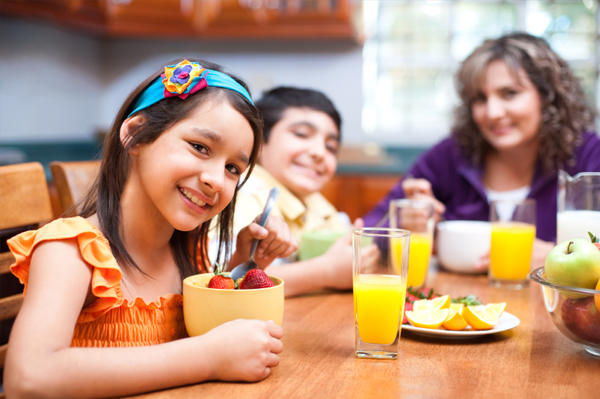 Breakfast is more than just a meal
Think about how foggy-brained, irritable, and fatigued you are when your blood sugar hits the skids because you've skipped a meal or have waited too long in between meals. Why would you want your children to go to school feeling that way? Breakfast isn't just morning food, it is essential for your children's health and performance at school.
10 Healthy lessons for the breakfast table >>
Children who eat breakfast excel
"As the old adage goes, breakfast really is the most important meal of the day," Dr Ronald Kleinman reminds us. Dr Kleinman is the chief of pediatric gastroenterology and nutrition at Massachusetts General Hospital. "It's essential for setting a healthy tone for the day and children who eat breakfast have been shown to perform better in school and have healthier body weights."
Breakfast is crucial for growth and development
Don't take the "eat breakfast" recommendation as the green light for giving your kids toaster pastries, doughnuts, or other empty-calorie convenience foods. Aim for a healthy breakfast comprised of wholesome ingredients. "A balanced breakfast that includes a mix of carbohydrates, fat and protein, such as toast with peanut butter and apple slices contributes essential nutrients for little ones to grow and develop properly," adds Dr Kleinman.
Get energy with whole grains
Combining lean proteins, such as eggs and nut butters, with complex carbohydrates, like fresh fruit and veggies and whole grains, will fuel your children with a healthy breakfast that will give them sustained energy and mental alertness to successfully tackle the school day ahead far better than feeding them refined flour products.
"Eating a balanced breakfast each morning is key for powering children and adults alike through the day," says Judi Adams, MS, RD, president of the Grain Foods Foundation. "Grains are a delicious and affordable building block for a complete breakfast and provide essential nutrients like energy-boosting B vitamins, iron, and fill-you-up fiber."
Back to school breakfast grains on-the-go >>
Provide variety to keep your kids excited about eating breakfast
Though better than nothing, serving the same bowl of cereal for breakfast is certainly going to get old quick. Add variety to your morning meals to keep your kids interested in sitting down to breakfast. Mixing up breakfast with different foods is also beneficial for your children's health (and yours, too); eating a wide variety of wholesome foods delivers a wide variety of vitamins, minerals, and other nutrients key in warding off disease and promoting optimal health.
Breakfast does not have to be boring. "[Healthy ingredients] can be paired in so many ways (think oatmeal with nuts and dried fruit or a bagel with almond butter and honey), the options are endless," adds Adams.
Up next: Kid-friendly breakfast recipes >>