Homemade kid favorites -- Spaghetti-O's"
This homemade version of Spaghetti-O's is full of flavor without the additives in the canned version. Alphabet-shaped noodles can be found at most grocery stores, or specialty markets, in the pasta aisle.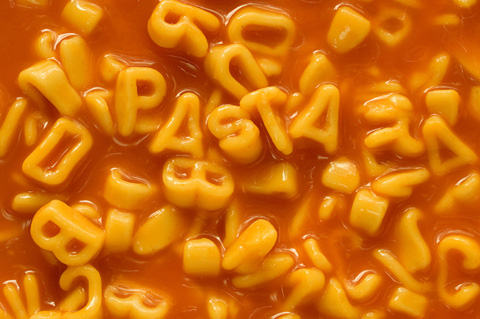 Homemade Spaghetti-O's
Ingredients:
1 box alphabet pasta
1 can tomato sauce
Sauce variations
Classic tomato sauce
Ingredients:
1 small can diced tomatoes in juice
1 small can tomato paste
Salt and pepper to taste
Directions:
Combine tomatoes and tomato paste in a small saucepan over medium heat.
Bring to a boil, stirring occasionally.
Remove from heat, stir in salt and pepper.
A-B-Cheesy sauce
Ingredients:
1/2 cup American cheese
1/2 cup cheddar cheese
1 cup milk
1 tablespoon flour
Directions:
Heat milk over low heat until just boiling. Stir in flour, whisking constantly until a smooth paste forms.
Remove from heat, and stir in cheese. Pour over alphabet noodles.