Homemade kid favorites -- pizza roll-ups
Roll-ups are a fun way to eat pizza without the additives that come in some frozen brands. These are great as a snack, or served with salad for a meal.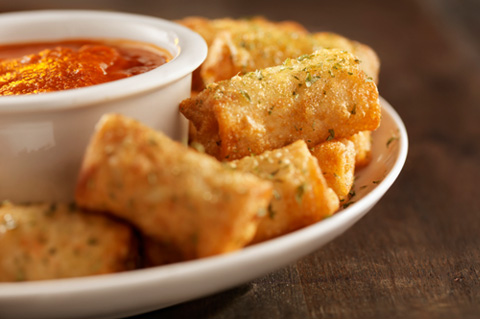 Ingredients:
1 package pizza dough
4 tablespoons tomato sauce or pizza sauce
1/2 cup shredded mozzarella cheese, to taste
Directions:
Roll pizza dough until flat and at desired thickness.
Slice dough into medium-sized squares
In the center of the dough slice, add sauce, cheese and toppings, a dash of garlic powder and oregano.
Fold up bottom of square, then roll up.
Bake according to dough directions until golden brown and cooked through
Variations:
Add small slices of ham, pepperoni or sausage.
Add small slices of green pepper and black olives.
Season sauce with a light dash of oregano or garlic powder.
Try different cheese, like monterey jack or pepper jack.
Roll up flour tortillas instead of dough.