Healthy snacks for spring
Whether your family's spring snack attacks are for sweet, salty, or crunchy nibbles or spoonfuls of creamy bliss, these three snack recipes -- featuring some of spring's in-season fruits and vegetables -- are quick to fix healthy eats that will satisfy those in-between meal tummy grumblings.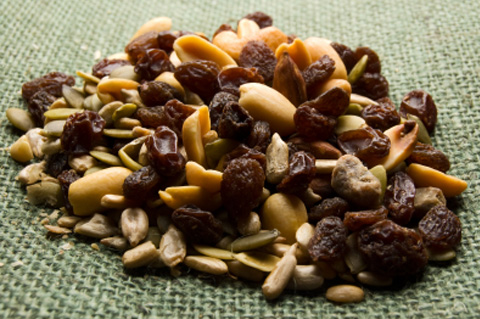 Sweet and spicy homemade trailmix
Warmer, sunny days mean outdoor play, beach or mountainside adventures, and afternoon picnics. This crunchy chewy trailmix has something for everyone: nuts, seeds, dried fruit, dark chocolate, and hot wasabi peas.
Makes 7 cups
Ingredients
1 cup raw almonds
1 cup cashews
1 cup wasabi peas
1 cup sunflower seeds
2 cups mixed dried fruit
1 cup dark chocolate chips
Directions
Mix all ingredients in a large bowl then portion into single servings in snack bags.
Apricot mango parfaits
Tender, sweet apricots and ripe juicy chunks of mango layered with crunchy granola and creamy Greek style yogurt is an unbeatable delicious and nutritious parfait combination. Loaded with vitamin C, fiber, probiotics, calcium, and protein, you can also serve this spring snack as a healthy breakfast or dessert.
Serves 6
Ingredients
3 apricots, halved, pitted, diced
1 small mango, pitted, peeled, diced
1 tablespoon lime juice
2 teaspoons finely grated lime zest
1 teaspoon finely grated fresh ginger
3/4 cup homemade granola or a healthy store-bought granola
3 cups Greek style yogurt
Directions
In a medium bowl, combine apricots, mango, lime juice, zest, and ginger.
In 6 parfait cups or clear short glasses, layer fruit mixture, granola, and yogurt. Chill until ready to serve.
Prosciutto spinach wraps
When the craving for something salty sweet arises, wrap up paper-thin slices of prosciutto, strawberry slices, goat cheese, fresh spinach, and high-fiber flavored tortillas. This recipe features modest quantities of the wrap filling for snack-size appetites, but you can double the filling ingredients to make a light and tasty lunch or dinner.
Serves 4
Ingredients
4 ounces goat cheese, softened at room temperature
4 paper-thin slices prosciutto
4 large ripe strawberries, trimmed, thinly sliced
2 cups baby spinach leaves
4 (8-inch) garlic and herb low-carb tortillas
Directions
Spread each tortilla with 1 ounce goat cheese, layer with prosciutto, strawberries nad spinach, then roll up tortillas.
Cut wraps crosswise into 1-inch slices to serve.
More kid friendly snacks