7 Drool-worthy Bisquick recipes
When you look at that box of Bisquick in your pantry (seriously, who doesn't have a box sitting on the shelf right now?), don't dismiss it as only a breakfast staple. Bisquick mix is perfect for so much more than just pancakes. Here are seven Bisquick recipes that will have you drooling from breakfast through dessert.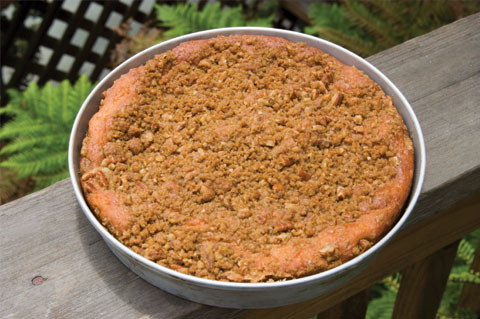 Bisquick sour cream coffee cake
If you're tired of pancakes, switch out your flapjack breakfast for this sinful sour cream coffee cake. You'll put pancakes out to pasture… at least for a little while.
Ingredients for the cake:
1-1/2 cups Bisquick baking mix
1/2 cup sugar
2 tablespoons margarine or butter, softened
1 egg
3/4 cup dairy sour cream or plain yogurt
1 teaspoon vanilla
Streusel (see recipe below)
Directions for the cake:
Heat oven to 350 degrees F.
Grease an 8 x 8-inch baking pan.
Combine all ingredients except streusel.
Beat on high with a hand mixer for 1 minute.
Spread mixture into the prepared pan.
Sprinkle with streusel.
Bake about 35 minutes. Cool 10 minutes before cutting.
Ingredients for the streusel:
2 tablespoons butter or firm margarine
1/4 cup Bisquick baking mix
3 tablespoons sugar
1/2 teaspoon ground cinnamon
1/4 teaspoon ground nutmeg
Directions for the streusel:
Cut 2 tablespoons butter or margarine into the Bisquick baking mix mixed with sugar, ground cinnamon and ground nutmeg until crumbly.
Crumble streusel on top of cake before baking.
Bisquick chicken pot pie
This chicken pot pie tastes just like the one Grandma used to make — but it won't take you all day! If you're craving a little comfort, whip up this Bisquick chicken pot pie.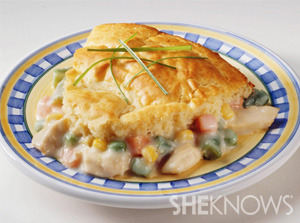 Ingredients:
2 cups frozen veggies, thawed
1 cup cooked chicken, or 1 can chicken
1 can cream of chicken soup
1 cup Bisquick
1/2 cup milk
1 egg, beaten
Directions:
Preheat oven to 400 degrees F.
Combine veggies, chicken and soup in a glass pie dish.
In a separate bowl, mix the Bisquick, milk and egg.
Pour Bisquick mixture over veggie mixture.
Bake for 30 minutes.
Bisquick Mexican fiesta casserole
This hearty casserole is sure to satisfy the Mexican food lovers at your table.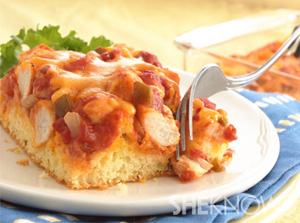 Ingredients:
1 pound lean ground beef
Salt pepper to taste
4 ounces cheddar cheese, shredded
1 cup sour cream
2/3 cup mayonnaise
2 cups Bisquick baking mix
1/2 cup water
2-3 ripe tomatoes, thinly sliced
3/4 cup green bell pepper, diced
1 teaspoon paprika (optional)
2 tablespoons onion, finely chopped
Directions:
Heat the oven to 375 degrees F.
Brown meat in a large skillet and drain excess fat.
Season the meat with the salt and pepper. Set aside.
Combine the cheese, sour cream, mayonnaise and onion. Set aside.
Stir the baking mix and water together until it forms soft dough.
Work the dough into a greased 13 x 9-inch baking pan.
Press the dough 1/2 inch up the sides of the pan to make a crust.
Layer the meat, tomato slices and green pepper onto the dough, and then spoon the sour cream mixture over the top.
Sprinkle with the paprika, if desired.
Bake about 25 to 30 minutes or until edges of dough are golden brown.
Allow to cool 5 minutes before cutting into squares to serve.
Up next: More Bisquick recipes >>