Nutella recipes
Boasting a cultish-caliber following, Nutella is beloved as a sweet spread worldwide. Though this luscious combination of chocolate and hazelnut has been a breakfast staple in Europe for decades, its unparalleled deliciousness has turned it into a special ingredient for many indulgent recipes, ranging from drinks to desserts. Here are just three of the many Nutella recipes you can serve your family.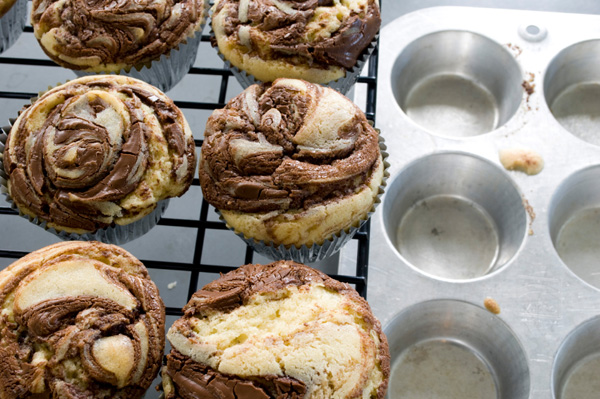 Nutella Swirl Muffins
Makes 12
Ingredients
1-3/4 cups white whole wheat flour
1/2 teaspoon salt
2 teaspoons baking powder
1/2 cup unsalted butter, softened at room temperature
3/4 cup granulated sugar
2 eggs
1 teaspoon pure vanilla extract
1 cup Nutella, warmed
Directions
Preheat oven to 325 degrees F. and line a 12-serving muffin pan with muffin liners. Spray liners with cooking spray.
In a medium bowl, whisk together the flour, salt, and baking powder. Set aside.
In the bowl of a stand up mixer fitted with a paddle attachment, beat the butter and sugar until light and fluffy.
Add the eggs 1 at a time, beating well after each addition, until fully incorporated. Beat in the vanilla extract.
Gradually add flour mixture to bowl and mix just until moist.
Fill muffin pan with batter. Top each muffin with a dollop of Nutella and use a knife to swirl Nutella into the batter. 
Bake for 20 minutes or until a toothpick inserted in the middle of a muffin comes out clean.
Let cool on a wire rack for 5 to 10 minutes. Serve warm with Greek yogurt or cool completely and store in an airtight container for up to 3 days.
Not your ordinary Nutella recipes >>
Nutella Cheesecake Pie
Serves 8
Ingredients
1-1/4 cups chocolate cookie crumbs
1/4 cup unsalted butter, melted
1 (8-ounce) package cream cheese, softened at room temperature
1 cup Nutella
1 cup heavy whipping cream
Dark chocolate shavings
Directions
Preheat oven to 400 degrees F.
Mix cookie crumbs and butter together and press onto the bottom and sides of a pie plate. Bake for 7 minutes. Set on a wire rack to cool completely.
In the bowl of a stand up mixer fitted with the paddle attachment, beat cream cheese and Nutella until smooth.
In a second bowl, whip cream with an electric hand mixer until soft peaks form. Gently fold whipped cream into Nutella mixture.
Transfer to the pie plate, smoothing the top with the back of a spoon. Shave dark chocolate onto the top of the filling. Refrigerate for at least 2 to 3 hours before serving.
5 Things to do with Nutella >>
Cinnamon Nutella Ice Cream
Inspired by a simple recipe from ChocolateandZucchini.com, I put a spicier spin on chocolate hazelnut ice cream with the warm flavors of cinnamon and cloves.
Makes 1-1/2 quarts
Ingredients
1-1/2 cups Nutella
2 (14.5-ounce) cans evaporated milk
1-1/2 teaspoons ground cinnamon
1/2 teaspoon ground cloves
Directions
1. In the bowl of a stand up mixer fitted with the whisk attachment, beat Nutella, milk, cinnamon, and cloves until smooth.
2. Place bowl in the refrigerator to chill. Once cold, whisk again and freeze in an ice cream maker according to the manufacturer's directions.