Cheesecake bites
Bigger isn't better when it comes to watching your waistline, especially where cheesecake is involved. That doesn't mean you have to deprive yourself of this iconic indulgent dessert, it simply means nibbling on modest mouthfuls of the sweetened cheese treat. Here are three cheesecake bite recipes to eat slow and savor.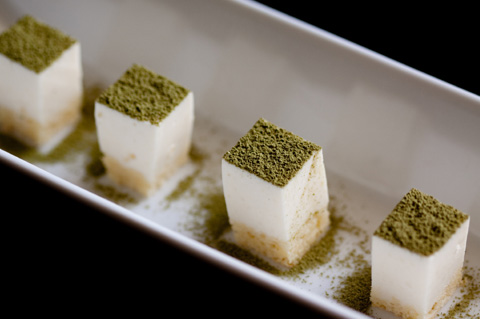 Matcha Cheesecake Bites
Makes 15
Miniature dessert bites are novel on their own, but when made with matcha (green tea powder), they become an even more extraordinary treat. These unique mini cheesecakes are so addictive, you may need to make an extra batch to hide from your family and keep for yourself.
Ingredients
15 mini phyllo shells
1 (4-ounce) block cream cheese, softened at room temperature
2 tablespoons matcha (green tea powder)
3 tablespoons honey or agave
Directions
Preheat oven to 350 degrees F.
Place phyllo shells on a baking sheet and bake for 15 minutes. Remove from oven and let cool completely.
In a medium bowl, beat cream cheese, matcha, and honey or agave until light and fluffy.
Transfer mixture to a pastry bag fitted with a round or star tip. Pipe cream cheese mixture into the prepared phyllo shells. Serve at room temperature.
Dark Chocolate Vanilla Cheesecake Bites
Makes 48
Need an impressive yet fuss-free dessert to serve a crowd? Try these no-bake dark chocolate vanilla cheesecake bites. You can even make them ahead up to 2 months and keep them frozen until ready to serve.
Ingredients
1 pint chilled heavy cream
3 (4-ounce) packages of cream cheese, softened at room temperature
3/4 cup granulated sugar
2 teaspoons pure vanilla extract
1/2 cup coarsely chopped premium dark chocolate
Directions
Spray 2 mini-muffin pans with cooking spray and set aside.
In the bowl of a stand-up mixer fitted with the whisk attachment, whip heavy cream until soft peaks form. Transfer whipped cream to a separate bowl and set aside. Rinse and dry bowl.
Replace whisk attachment with paddle attachment. In the bowl, combine cream cheese, sugar and vanilla and beat cream cheese mixture until fluffy.
Using a spatula, fold whipped cream into cream cheese mixture. Divide mixture among the muffin cups and smooth tops with the back of a spoon.
Sprinkle each bite with dark chocolate gently pressing chocolate into cheesecake batter. Place in freezer for 6 to 8 hours or overnight.
When ready to serve, tap muffin tin on the counter to loosen cheesecake bites. Transfer each bite to a foil mini-muffin cup to serve.
Ginger Lemon Cheesecake Bites
Makes 36
Gingery, lemony, luscious, these cheesecake bites will steal the show when it comes to tasty desserts.
Ingredients
3 cups crushed ginger snaps
1/4 cup unsalted butter, melted
4 (8-ounce) packages Neufchatel, softened at room temperature
1 cup granulated sugar
1 cup light sour cream
1 teaspoon pure vanilla extract
Juice and finely grated zest of 1 lemon
4 eggs
3/4 cup finely chopped candied ginger
Directions
Preheat oven to 350 degrees F. Line 13x9-inch baking dish with foil allowing the ends of the foil to extend over the sides of the dish.
Mix crumbs and butter together and press onto the bottom of the prepared baking dish.
In the bowl of a stand up mixer fitted with the paddle attachment, beat Neufchatel and sugar until light and fluffy.
Beat in sour cream, vanilla, lemon juice and zest. Beat in eggs 1 at a time, beating well after each addition, until well-combined.
Pour batter onto crumb mixture and use a spatula to evenly smooth into dish. Sprinkle with candied ginger.
Bake for 45 minutes or until center is almost set. Set dish on a wire rack to cool to room temperature.
Refrigerate overnight or for a few hours. Use foil handles to carefully lift cheesecake from pan and transfer to a cutting board.
Use a sharp knife to cut cheesecake into 36 bites. To keep the knife from sticking to filling, wipe it off with a paper towel after each slice.
More cheesecake recipes