Asparagus recipes
When the first local asparagus starts showing up in the markets, you know spring is here. You depend on it for your holiday meal -- whether Passover or Easter -- and you try to take advantage of the fresh flavor when it's on special. You steam it, sure, and maybe you grill it (yum!) but there are many, many more ways to enjoy this fresh taste of spring. Try asparagus flan, soup, or muffins. As delicious as asparagus is in its "standard" form. It's a delicious ingredient in many other dishes.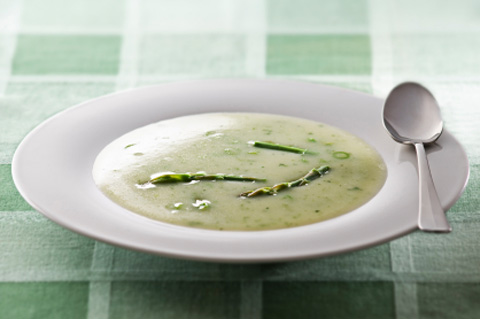 Asparagus flan
Ingredients
2 pounds fresh asparagus, trimmed and steamed until tender
4 large eggs
1 1/3 cups whole milk
2 tablespoons freshly grated Romano cheese
1 ¼ teaspoons salt
Pinch freshly ground black pepper
Pinch freshly grated nutmeg
Directions
Preheat the oven to 325 degrees Fahrenheit. Butter an round cake pan, line the bottom of the pan with parchment paper, and butter the paper.
Puree the asparagus until smooth, then press through a sieve to remove any remaining fibrous bits.
In a large bowl, whisk the eggs. Whisk in the milk, cheese, salt, pepper, and nutmeg. Add the asparagus purée, and whisk to thoroughly combine.
Pour the asparagus mixture into the prepared cake pan.  Place the cake pan in a large roasting pan, then add very hot water to the larger pan, until the water comes half way up the side of the cake pan.
Bake until the flan is set and beginning to pull away from the sides and a toothpick inserted in the center comes out clean, 50 minutes to 1 hour. Transfer the cake pan to a rack to cool slightly, about 10-15 minutes.
Run a thin knife around the edge of the flan to loosen it. Unmold onto a serving plate. Cut the flan into wedges, and serve.
Asparagus tart with parmesan
Ingredients
1 sheet of puff pastry dough, fully thawed and cut into 4 piece
¾ pound fresh asparagus, trimmed and steamed until tender
2 tablespoons mascarpone cheese
3 tablespoons grated Parmesan cheese, plus extra for garnish
Olive oil
Directions
Preheat oven to 400 Fahrenheit. Line a baking sheet with parchment paper.
Combine the mascarpone and Parmesan cheese. Divide evenly among the puff pastry and spread leaving a ¾ inch border.
Lay a quarter of the asparagus on top of each piece of pastry. Drizzle with olive oil.
Bake for 20-25 minutes until crisp and golden. Sprinkle with Parmesan and serve.

Cream of Asparagus Soup
Ingredients
4 tablespoons butter
1 small onion
1 quart low-sodium chicken stock
2 tablespoons flour
1/2 cup heavy cream
Salt and pepper to taste
1 bunch fresh asparagus, tripped and chopped.
Directions
In a saucepan over medium heat, melt 2 tablespoons butter.  Whisk in the flour. Cook, stirring, until fragrant and very lightly golden. Cool and set aside.
In a large saucepan, melt the remaining butter. Add the onion and cook until soft. Stir in the broth and cream and bring to simmer
Add the asparagus and the roux, reduce heat, cover, and let cook until asparagus is tender, about 20 minutes.
Use a hand blender or regular blender to puree until very smooth. Season with salt and pepper and serve.
Asparagus pesto
Ingredients
1 pound asparagus, trimmed and steamed until tender.
3 handfuls baby spinach leaves
2 cloves garlic, peeled
1 cup freshly grated Parmesan cheese
3/4 cup pine nuts, toasted
1/4 cup olive oil
Juice of 1/2 lemon
1/2 teaspoon fine-grain sea salt
Directions
In a food processor, combine the asparagus, spinach, garlic, Parmesan, and pine nuts. Pulse several times until all ingredients are coarsely combined.
With the food processor running, drizzle in the olive oil. Process until the mixture is very smooth.
Add lemon juice and salt and pepper to taste.
Toss with freshly cooked pasta.
Asparagus and cheese muffins
Ingredients
2 ¼ cups flour
7 tablespoons canola oil
1 tablespoon baking powder
1/4 teaspoon salt
2 teaspoons fresh ground black pepper
2 large eggs
1 cup sour cream 
12 spears fresh green asparagus, trimmed
1/3 cup smoked gouda, grated
Directions
Preheat oven to 400 Fahrenheit. Like a muffin tin with paper muffin cups.
Toss the asparagus with 1 tablespoon of canola oil. Place on a baking sheet and roast for about 10 minutes. Cool and cut into 1 inch pieces.
In a large bowl, combine flour, baking powder, salt and pepper.
In another bowl, beat the eggs with the sour cream and remaining oil. Combine with the dry ingredients and mix until just moistened.
Fold in the asparagus pieces and the cheese.
Divide among the muffin cups. Bake 20 minutes, or until a cake tester comes out clean.
More asparagus recipes