PB&J ice cream cookie sandwiches
Peanut butter and jelly has become a decadent dessert! These peanut butter and jelly ice cream cookie sandwiches are not just for kids, either. Adults can indulge in these delicious mini ice cream cookie sandwiches.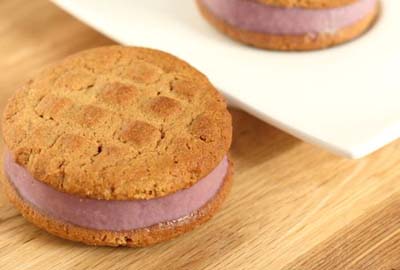 PB&J Ice Cream Cookie Sandwiches
Ingredients
1, 18-ounce roll refrigerated peanut butter cookie dough
1/4 cup all-purpose flour
6 tablespoons fruit preserves, flavor of your choice
1 pint vanilla ice cream
Directions
Preheat the oven to 350 degrees F.
On a lightly floured surface, roll dough out, and divide into 1-1/2-inch squares.
Transfer cookie dough squares onto ungreased cookie sheets.
Bake for 8 to 10 minutes or until edges are firm and tops are slightly golden.
Cool on cookie sheets for 1 minute, then transfer to a wire rack and allow them to cool completely.
On the bottom side of a cookie, spread about 1 teaspoon preserves, then top with a small scoop of ice cream (about 1-1/2 tablespoons).
Place another cookie on top, and press together gently.
Repeat with remaining cookies, jam, and ice cream.
Wrap individually in plastic wrap and freeze for 4 to 48 hours.
More Peanut Butter and Jelly Recipes
Fried Peanut Butter and Banana Sandwich
Fried Chocolate and Peanut Butter Sandwich
Peanut Butter and Jelly Cookies
---
More From SheKnows Explorer
---
---