Valentine's Day Oreo Truffles
This Valentine's Day Oreo Truffles recipe is from high-schooler and aspiring chef Ashley Gelo. These easy Valentine's Day Oreo Truffles are dressed up with pink drizzled white chocolate and perfect for sharing with your Valentine.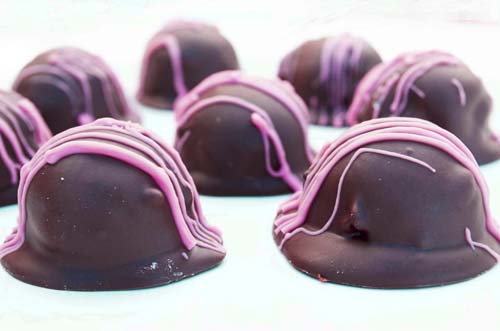 Photo by Melissa Dunlap 
Valentine's Day Oreo Truffles
Ingredients:
1 package Oreo cookies
1, 8-ounce cream cheese, softened
1 package almond bark
Directions:
Crush Oreos in a Ziploc bag and set aside.
Beat cream cheese in food processor until slightly fluffy.
Add half of crushed Oreos and mix into cream cheese.
Add remaining Oreos and blend into a thick, smooth paste.
Refrigerate for 15 minutes.
Roll into 1-inch balls and refrigerate for 15 minutes more.
Melt almond bark, cut into small pieces and melt over boiling water in a glass Pyrex bowl.
Dip truffles into alond bark and place on waxed paper-lined cookie sheet to dry.
Decorate with pink-tinted white almond bark.