Valentine's Day Recipe: Heart-Shaped Strawberry Shortcake
This Heart-Shaped Strawberry Shortcake recipe was created by high-school student and aspiring Chef Ashley Gelo. This Heart-Shaped Valentine's Day Strawberry Shortcake recipe starts with heart-shaped Springform cake pans and ends with creamy strawberry sauce spooned over golden yellow cake.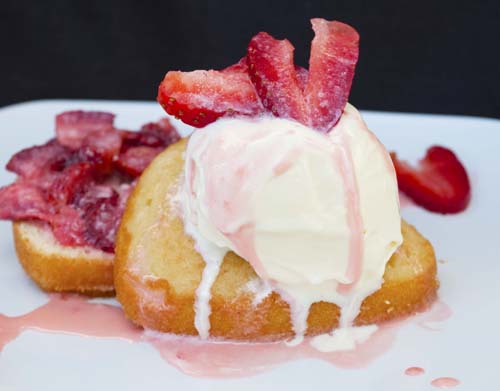 Photo by Melissa Dunlap 
Heart-Shaped Strawberry Shortcake
Ingredients:
Strawberry Sauce:

2 pounds strawberries
4 tablespoons lemon juice
3/4 cup sugar
1/4-1/2 cup heavy whipping cream
Vanilla bean ice cream 
Cool Whip or Whipped Cream
Cake:
1 Box French Vanilla cake mix
Directions:
Bake cake according to directions in in heart-shaped Springform pans
Hull and slice strawberriesand put in a large bowl.
Add lemon juice, sugar and whipping cream to strawberries.
Mix well and refrigerate.
To Serve:
Cool cake completely and remove from pans. 
Cut cakes in half and spoon strawberry sauce in the middle and on top of the cake.
Top with a scoop of ice cream and a scoop of Cool Whip.