Guide to dining out with the kids
Having young kids doesn't mean giving up on eating out. Here are tips for dining out on the cheap — or even free — with the kids.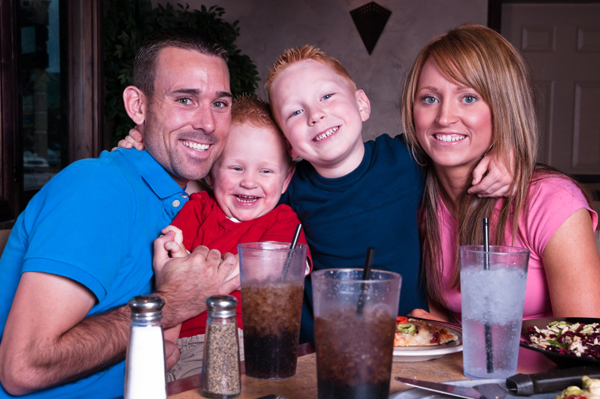 1. Kids eat free nights
Ask about kids eat free nights. Many restaurants have a day, typically a weeknight, where kids eat free when parents buy an entree.
2. Dim sum
If you live in a city that has a Chinatown neighborhood, take the kids to dim sum. They'll be able to try a variety of fun foods like dumplings, buns and noodles and the inexpensive prices are amazing.
3. Ditch the drinks
Unless milk, juice or soda come with a kids' meal, water may be a better choice. Restaurants mark up beverages, so one glass of juice may cost as much as if you bought a whole container of it at the grocery store.
4. Go family style
Family-style restaurants are heavy on portions but light on wallets.
5. Dine early
Take the family out for lunch instead of dinner. Your meal may be several dollars less just a few hours earlier. Early bird dinner specials are a great deal, too, and with young kids, chances are you eat out earlier anyhow.
6. Prix fixe
Prix fixe meals, where you choose from a set menu, are no longer reserved just for fancy French restaurants. You can save a lot of money by asking local restaurants if they offer this deal.
7. Collective buying
Websites like Groupon offer daily deals for a discount, and restaurants are a popular offering. If enough people purchase the deal of the day, you can save a lot of money locally and also if you travel to another city that has Groupon deals.
8. Coupons
They're not just for grocery shopping anymore. Many restaurants offer discounts on their websites. Restaurant.com has great offers like $25 for $50 toward select restaurants.
9. Email clubs
You may be surprised at the great offers you'll get if you sign up for your favorite restaurant's email club. Think free meals for birthdays, anniversaries and holidays simply for signing up.
More tips for eating out with kids
Does eating in actually save you money?
Eating out with kids: Restaurant behavior
6 Tips for taking the kids out to eat