Kid-friendly Super Bowl recipes
Kid-friendly Super Bowl recipes. Will it be the Steelers or Jets? No matter which team you're rooting for, these Super Bowl snacks aim to please the whole family.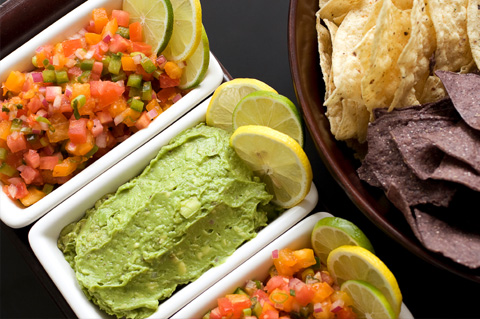 Pigs in a football
This twist on classic pigs in a blanket is fun to eat -- and make. Even the littlest football fans in the family can help out.. Buy mini hot dogs or sausages, or cut large ones into small pieces before rolling into the dough.
Ingredients
1 package crescent roll dough
1 package mini hotdogs or sausages
Ketchup, mustard or other condiment of your choice
Plastic knife or thin popsicle stick for making football stitches in dough
Directions
Preheat oven according to dough package directions.
Roll each hot dog in a piece of dough. Leave enough room at the ends to close.
Press ends of dough into pointed oval football shape.
Gently carve "stitches" on the top of each pig in a football.
Bake according to dough package directions.6. Let cool. Serve with favorite condiment.
Super Nacho Bar
Who doesn't love nachos? Picky eaters will enjoy these with just cheese. Adventurous eaters will enjoy one or all of the other toppings.
Ingredients
For the nachos:
Family size bag of tortilla chips -- plain are best if you're going to add a lot of toppings.
Large bag shredded cheese - 4 cheese Mexican blend works well.
For the toppings bar:
Salsa
Sour cream
Guacamole
Refried beans
Sliced black olives
Cooked ground beef or turkey
Directions
Top chips with cheese and either microwave for 25 seconds or until cheese is melted. For crispier nachos, preheat oven to 350 then bake for 5 minutes or until cheese is bubbly
Veggies with homemade creamy salsa dip
Combine equal parts sour cream with chunky salsa and mix together well. Serve with baby carrots, grape tomatoes, celery or broccoli.
Favorite Team Pizza
Start with pre-made cheese pizza or bake your own. Decorate the pizza by spelling out "SUPER BOWL," "GO JETS" or "GO STEELERS" with red or green pepper slices or pepperoni.
Super Bowl Sundae Bar
Start with your favorite flavors of ice cream, then make a bar with toppings like hot fudge, caramel, whipped cream, cherries, nuts or chocolate chips.
>>More on the perfect sundae bar
More Super Bowl food ideas