Healthy winter snacks for kids
Here are 5 healthy winter snacks for kids that are simple and delicious. These snacks are so good, your kids will forget they're healthy!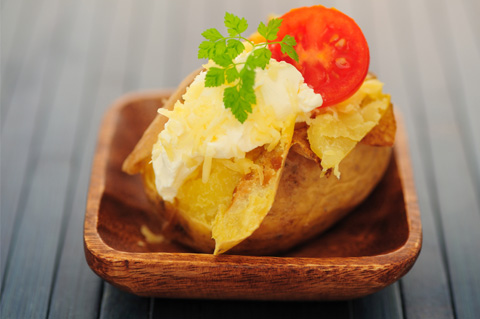 Fruit Kebobs
Kids will enjoy this fun way to eat seasonal winter fruits. All you need are some skewers and chunks of fresh fruit like bananas, pears, pineapple and strawberries. Fruit kebobs are delicious plain, or you can dip them in vanilla yogurt or drizzle with honey.
Melted cheese on wheat crackers
This traditional snack is quick and easy to make. Shredded cheese is great for melting, or you can slice brick cheese into small chunks. Microwave in 15 second increments until melted.
Pizza bagels
Pizza. Bagels. What's not to love? Top a sliced bagel -- plain or egg are good choices for pizza - with tomato sauce, shredded mozzarella cheese and add additional toppings like mushrooms, green pepper or pepperoni. Bake in toaster oven at 350 for 5-7 minutes if your child likes a crispy pizza bagel. Or, microwave for about 20 seconds or until cheese is melted for a softer pizza bagel.
Baked potato
This winter snack combines fiber with flavor. Kids will enjoy this plain, or you add cheese, salsa or veggies.
Celery topped with peanut butter and raisins
The classic "ants on a log" is always a hit with kids. Spread creamy peanut butter on celery sticks, then top with raisins.
More kid friendly snacks