Super Bowl recipes for the kids
If you're planning a neighborhood Super Bowl party with parents and kids, you better have plenty of kid-friendly Super Bowl fare. Buffalo wings and hot chili may be just what the adults are rooting for, but score a touchdown with the kiddos by serving these kid-friendly game day recipes.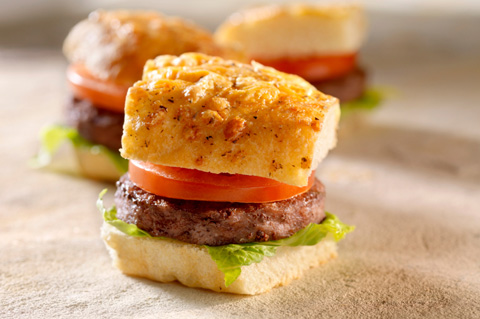 Kid-Friendly Football Fruit Dip
Makes about 2 cups of dip
Serve this creamy dip in small football shaped bowls along with chunks of fruit, such as pineapple, strawberries, and bananas, and bite-sized pieces of angel food or sponge cake.
Ingredients
8 ounces skim-milk ricotta cheese
8 ounces Neufchatel cheese
3 tablespoons honey or more to taste
Directions
Place all ingredients in a food processor or blender and puree until smooth. Keep refrigerated until ready to serve.
Touchdown Chicken Quesadillas
Makes 16 appetizer-size triangles
Ooey, gooey, cheesy delicious, quesadillas are a hit among kids and adults alike. These quesadillas feature cheese, shredded chicken, and peach slices.
Ingredients
1-1/2 cups shredded cooked rotisserie chicken breast
1-1/2 cups shredded Colby jack cheese
1 (15-ounce) can peach slices packed in natural juices, drained
4 (8 to 10-inch) whole grain tortillas
Directions
Combine chicken and cheese in a large bowl. Set aside.
Dump peaches into a colander and pat dry with paper towels to remove excess juice, which can make quesadillas soggy. Place half of the peaches on a cutting board and finely chop.
Heat a large skillet over medium-high heat. Spray skillet generously with cooking spray.
Place one tortilla in the skillet and top with half of the chicken mixture and half of the finely chopped peaches.
Place a second tortilla on top of the chicken mixture and lightly press down. Spray top tortilla with cooking spray.
Cover skillet with a lid and cook for 2 to 3 minutes or until bottom tortilla is lightly browned underneath.
Carefully invert quesadilla onto a large plate and slide back into skillet. Cover skillet and cook for 2 to 3 minutes or until cheese is melted and quesadilla is lightly browned on both sides.
Repeat with remaining ingredients. Place both large quesadillas on a cutting board and cut each into 8 wedges. Serve with remaining peach slices.
Sideline Beef Sliders
Makes 8
Ingredients
1-1/4 pounds extra lean ground beef
2 tablespoons dried onion flakes
1 teaspoon dried Italian seasoning
Salt and freshly ground black pepper
8 slider buns or Hawaiian rolls
Condiments and toppings of your choice
Directions
In a large bowl, combine ground beef, onion flakes, Italian seasoning, and salt and pepper.
Shape beef mixture into 8 patties.
In a nonstick grill pan over medium-high heat, grill burgers until cooked through, about 3 minutes per side.
Place burgers in between buns and serve with condiments and toppings of your choice.
More Super Bowl recipes