Valentine's Day lunchbox recipes
Whether you want to include your kiddos in helping you pack their extra-special Valentine's Day lunch or deliciously surprise them, these Valentine's Day lunchbox recipes are easy enough to pack that school lunch with love throughout the rest of the year.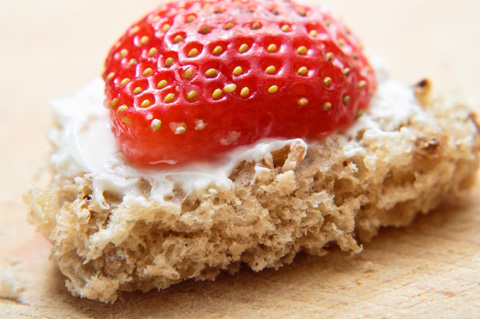 Heart-Shaped Pumpernickel Cream Cheese Strawberry Sandwiches
Serves 2
You can use whatever bread you want – my son loves pumpernickel and it is a fun change from white bread. As a bonus, heart-shaped sandwiches are a hit with kids who prefer crustless bread.
Ingredients
4 slices pumpernickel bread
4 ounces cream cheese, softened at room temperature
2 large fresh strawberries, slices lengthwise to keep their "heart-shape"
Directions
Using a large heart-shaped cookie cutter, cut bread into large hearts.
Spread one side of each heart with cream cheese.
Lay strawberry slices on two of the hearts, covering the cream cheese.
Top with remaining hearts, cream cheese side down. Wrap each sandwich in plastic wrap to pack.
Heart-Shaped Turkey Meatloaf
Serves 6
A 6-cavity silicon pan makes this meatloaf recipe a heart-shaped cinch.
Ingredients
1 pound ground turkey
1 egg
1/4 cup finely chopped green onion
1/3 cup finely chopped dried cherries
Salt and freshly ground black pepper to taste
5 tablespoons cherry preserves
Directions
Preheat oven to 350 degrees F. and grease the insides of the silicon hearts with canola oil.
Add all ingredients except cherry preserves to a large bowl and mix with your hands until combined.
Divide meatloaf mixture among heart-shaped cavities. Spread preserves in a thin layer overtop each meatloaf.
Cover loosely with foil. Bake for 35 to 45 minutes or until cooked through. Let cool for 15 minutes.
Carefully pop meatloaves out of pan and allow to cool completely before placing in individual-serving sized airtight containers.
Note: Meatloaf can be eaten cold or warm. To reheat, place in a microwave-safe container and cook on HIGH for 1 minute or until warm.
Valentine's Day Pink Smoothie
Serves 2
Pink smoothies are the perfect lunchbox drink on Valentine's Day.
Ingredients
1 (8-ounce) carton vanilla or raspberry yogurt
1 cup fresh raspberries
2 tablespoons ground flax
Directions
Place all ingredients in a blender and puree until smooth.
Pour smoothie into 2 airtight lunchbox drink containers.
Pack smoothies with a small lunchbox cold pack to keep smoothies cold.
More Valentine's Day recipes for kids
---
More From SheKnows Explorer
---
---