Valentine's Day treats the kids can make
Valentine's Day may be the day of romantic dinners, sexy interludes, and fine wine and chocolates for adults, but kids love Valentine's Day just as much as we do. In addition to giving cute hand-written Valentine's Day cards to their classmates, children also love sharing fun and delicious Valentine's Days treats they made themselves (or with a little adult help). Here are three kid-friendly Valentine's Day desserts.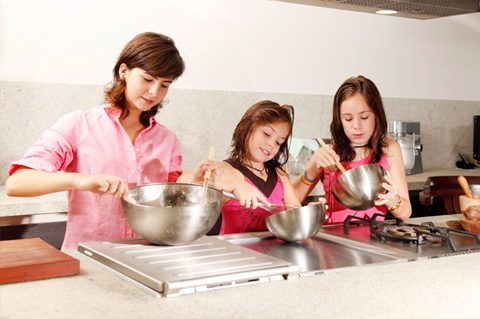 Valentine's Day Gelatin Hearts
I tend to steer clear of artificial colors in foods and prefer to make "Jell-O" from scratch. Gelatin and juice is all you'll need to help your kids make fun jiggly hearts.
Ingredients
1 cup boiling water
1 cup 100 percent cherry juice, divided
2 tablespoons agave
1 packet of unflavored gelatin
Directions
In an 8-inch square baking dish, whisk together water, 1/2 cup cherry juice, and agave until agave is dissolved. Whisk in gelatin until dissolved.
Allow gelatin mixture to cool slightly. Stir in remaining juice. Refrigerate until firm.
Let your kids use heart-shaped cookie cutters to cut out heart-shaped "gellos" and place on a serving plate.
Valentine's Day M&M Cookies
Kids love baking cookies and a pretty array of red and pink M&Ms turn the usual cookie into a fun and tasty Valentine's Day-themed treat.
Ingredients
2 sticks (1 cup) unsalted butter, softened at room temperature
3/4 cup firmly-packed light brown sugar
1/2 cup granulated sugar
2 eggs
1 teaspoon pure vanilla extract
2 cups white whole wheat flour
1 teaspoon baking soda
1/2 teaspoon salt
2-1/2 cups red and pink M&Ms
Directions
Preheat oven to 350 degrees F.
In the bowl of a stand-up mixer fitted with the paddle attachment, combine butter and sugars (if age-appropriate, let your kids add the ingredients into the bowl and turn mixer on). Beat on medium-high speed until mixture is light and fluffy.
Scrape down the bowl and beat in eggs and vanilla. This is a great opportunity to teach your kids how to break eggs into a small bowl before adding to the mixer bowl.
In a medium bowl, let your kids whisk together flour, baking soda, and salt.
Teach your kids how to carefully add flour mixture to butter mixture and beat on low speed until a soft dough forms.
Stir in M&Ms. Give your kids tablespoons and let them drop cookie dough onto ungreased cookie sheets.
Bake for 8 to 10 minutes or until the edges of the cookie are set and golden. Allow cookies to cool on a wire rack.
Chocolate-Dipped Pretzels for Valentine's Day
Your kids will love dipping large pretzel sticks in ooey-gooey chocolate and then giving the treats a red and pink sprinkle. You can even get gluten-free pretzel sticks if any of your children's friends are gluten-intolerant.
Ingredients
6 ounces white baking chocolate
6 ounces dark chocolate chips
36 pretzel rods
Red and pink sprinkles
Directions
Let your kids place white chocolate in one bowl and dark chocolate in a second bowl. Melt each in the microwave according to package directions.
Give your kids the pretzel rods and teach them how to dip the bottom half of the rods into the chocolate and then sprinkle the warm chocolate with sprinkles.
Place dipped pretzels on waxed paper and refrigerate just until chocolate is firm.
To give as gifts, bunch three rods together with ribbon.
More Valentine's Day treats for kids