Heart-shaped foods for Valentine's Day
Dining on Valentine's Day can be, if you let it, full of heart-shaped fun. From naturally heart shaped foods, to commercially available products to -- best of all -- homemade goodies, Valentine's Day is about showing your heart.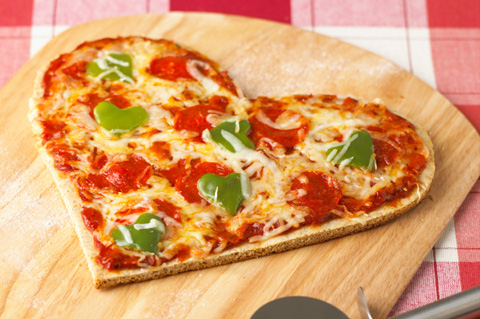 Heart-shaped food to make
Heart shaped pizza
Yes, you can shape your homemade pizza dough into a heart -- so why not try? Heck, you could even spell out a message with toppings. Points off if your message is telling your son to clean his room.
Pancakes
Pancake molds are handy for making heart-shaped pancakes -- but not critical. Careful pouring of batter onto a hot griddle works almost as well. And you don't have to find storage space for another gadget.
Cookies
Cookie cutters in heart shapes are a Valentine's Day classic. With two different sizes, you can make Linzer cookies. Big or little, a sweet heart shaped home baked treat definitely says, "I love you."
Sandwiches
Use that big heart cookie cutter to surprise your son in his lunch bag on Valentine's by making a heart-shaped sandwich. Make a sandwich, then press a large cookie cutter into the sandwich. This technique cuts off a fair bit of sandwich, so your son might need two of them.
Muffins
Cherry muffins made in a heart shaped pan are a delicious Valentine's morning treat. And you could use the pan for cupcakes later in the day: we suggest red velvet. Novelty tins are available in metal -- or red silicone.
Burgers?
For the really adventurous, you can turn almost anything heart-shaped. Form burger meat into a heart, or trim a steak or chicken breast. Carefully spoon edamame into a heart shape, or if you are making a sauce, "draw" a heart on the plate with it. The sky really is the limit!
More Valentine's Day recipe ideas