Heart-shaped foods for Valentine's Day
Dining on Valentine's Day can be, if you let it, full of heart-shaped fun. From naturally heart shaped foods, to commercially available products to -- best of all -- homemade goodies, Valentine's Day is about showing your heart.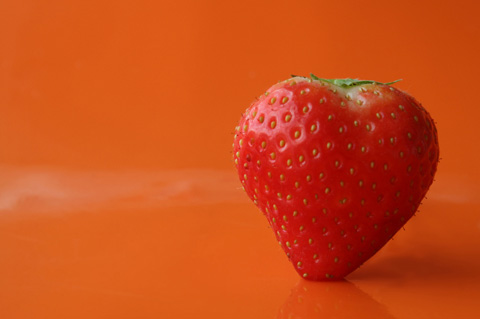 There are a few naturally heart shaped foods, but most heart shapes, where food is concerned, are man (or woman) made.  Freehand or using gadgets, just about anything can become heart-shaped. With a little creativity, you could eat heart shaped foods all day long on Valentine's Day.
Naturally heart-shaped food
Strawberries
Strawberries are naturally heart-shaped, and they are red to boot. Many consider strawberries an aphrodisiac, so it's no wonder chocolate dipped strawberries are on many a Valentine's Day menu. Add several slices of strawberries to almost any dessert recipes to make it Valentines-special.
Figs
Turn a fig upside-down, slice in half, and you have another heart-shaped food. And? It's also an aphrodisiac. A plate of sliced strawberries and figs with a light drizzle of good honey and some chevre….mmmmmm.
Heart-shaped food to purchase
Heart shaped candy
Heart-shaped candies are, of course, ubiquitous for this particular "holiday." They are available everywhere from the local pharmacy or gas station mini-mart to the high end retailers. Everyone wants in on the action in Valentine's Day, and heart-shaped candies at every checkout counter is an easy way to do it.
Many manufacturers create limited edition heart-shaped versions of their usual non-heart-shaped offerings. That means if your sweetie's favorite candy is a particular chocolate covered peanut butter cup, you both are in luck.
Heart shaped pasta?
Some food manufacturers you wouldn't otherwise think of create heart-shaped products for the day. Heart shaped pasta, for example, is available from online retailers.
Up next: Heart-shaped food to make >>