Easy soups and stews
These soup and stew recipes may be easy, but they taste like you've been in the kitchen all day.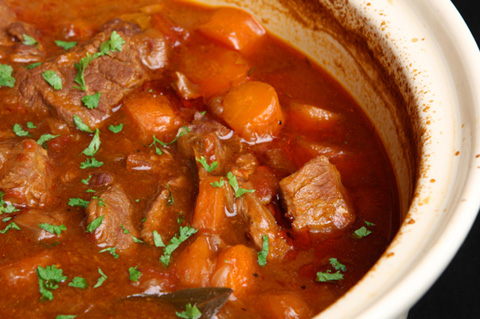 Pork stew with hominy
 This easy, hearty stew is commonly called pozole. Hominyand chipotle in adobo sauce are available in the Mexican food aisle at most grocery stores. Omit the chipotle unless you like it spicy. This stew tastes even better the next day.
 Ingredients
 1 1/2 lbs pork shoulder, trimmed and cut into chunks
1 15 oz can hominy, drained with liquid reserved1 large onion, chopped
3 cloves garlic, finely chopped 
1/2 Tbsp ground oregano
2 Tbsp olive oi
l cup water
1/2 Tbsp salt spice blend -- I like to use Chicago Steak Seasoning from The Spice House.
1 chipotle pepper in adobo sauce (**optional - just one pepper adds heat)
Salt and fresh ground pepper to taste
Directions
Heat olive oil in large saucepan over medium heat.
Add all ingredients and mix well.
Cover about an inch with hominy liquid and water
Bring to a boil.
Simmer for an hour or so, until pork is cooked through.
Alphabet vegetable soup
Ingredients
6 cups vegetable, chicken or beef stock or broth
1/2 cup each diced carrots, celery
1/2 sweet yellow onion, diced
1 package alphabet shaped pastas
Salt and pepper to taste
Directions
Bring stock to a rolling boil in large saucepan
Add vegetables
Cook for 1-2 minutes, then turn burner down to simmer
Add pasta. Cook until al dente - about 6 minutes
Add salt and pepper.
Have fun as your kids learn their A-B-Cs while enjoying their soup.
Kielbasa, Kale, Tortellini and White Bean soup
This soup is a meal in itself and tastes even better the next day.
Ingredients
1 lb. cooked kielbasa, cut into small chunks
1 1/2 cups kale, torn
1 can white beans (cannellini or white kidney beans)1 onion, chopped
1 bulb fennel, chopped
2 cloves garlic, chopped
6-8 cups chicken stock
1 package cheese tortellini
Dash italian seasoning blend
Salt and pepper to taste
Directions
Heat olive oil in large saucepan over medium-high heat.
Add kielbasa, onion, fennel, garlic and seasonings. Cook until vegetables are soft, about 3 minutes.
Add stock and bring to a boil.
Add beans and kale. Cook until kale wilts, about 4 minutes.
Add tortellini. Cook about 6 minutes or until al dente.
Add salt and pepper if needed.
Slow cooker beef stew
Super easy and delicious. You can brown the beef the night before then add everything into your slow cooker insert and refrigerate over night. Put the slow cooker on low the next morning and you'll come home to a delicious meal.
Ingredients
1 1/2 pounds boneless stew beef, cut into chunks
1 can sliced carrots
1 can pearl onions
6 cups beef stock
Garlic powder, salt and pepper to taste
2-3 Tbsp flour or corn starch (for thickening) 
Directions
Brown stew beef in skillet over medium heat.
Sprinkle beef with garlic powder, salt and pepper.
Add beef and remaining ingredients to slow cooker.
Cook on low for 6-8 hours or high for 3 hours.
To thicken stew, add flour or corn starch to small mug or ramekin. Ladle spoon of stew broth and pour into mug. Whisk immediately to form a paste, then pour paste into stew. Repeat as needed for desired thickness.
More soup and stew recipes