Easy salmon suppers
Simple salmon recipes for your family. These salmon recipes are an easy and tasty way to add more salmon to your family's diet. It seems like you see something new about the benefits of salmon every week. It's high in Omega-3s, it's heart healthy, it's an aphrodisiac. As if the terrific flavor and versatility (and color!) weren't enough to make it a favorite food.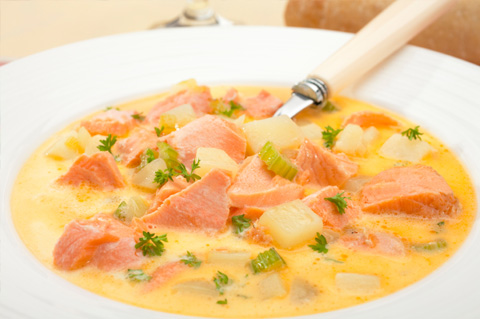 Although sustainability has become an issue (wild Western salmon is preferred in sustainability circle over Atlantic farmed salmon), salmon remains an excellent source of protein, as well as vitamins and minerals -- and the aforementioned Omega-3s. It can be cooked extremely simply -- pan-seared or wine-poached are delicious preparations -- or can be gussied up with all your kitchen gadgets to make a memorable gourmet meal.
Salmon struedel
Ingredients
1/2 cup sour cream
3 tablespoons oil packed sun dried tomatoes, drained
1 each garlic clove
1 tablespoon oregano leaves, fresh
Kosher salt and freshly ground black pepper
1/4 cup unsalted butter, melted
2 tablespoons fresh herbs, minced
1 pound salmon fillets, cut in 2-1/2 inch strips
Phyllo leaves
3 tablespoons basil pesto
Directions
Preheat oven to 400 Fahrenheit. Line a baking sheet with parchment paper.
In a food processor, puree the sour cream, sundried tomatoes, garlic, oregano, salt and pepper until smooth. Scrape out of the food processor and into a bowl.
Stir together the melted butter and herbs
On the baking sheet you will use, lay out a piece of phyllo widthwise. Brush with the butter and herbs. Repeat this with five more pieces of phyllo.
Spread sour cream on the phyllo, leaving 2 ½ inches clear on the long sides and 1 ½ inches clear on the short sides.
Lay the salmon fillets on top of the sour cream, overlapping a little if necessary.
Rub top of salmon evenly with pesto.
Fold edge closest to you over the salmon. Then, using the parchment paper to help you, roll up all the phyllo with the salmon inside. Fold the short ends under. Carefully flatten the parchment paper on the baking sheet and place the strudel on top.
Refrigerate 30 minutes.
Bake strudel for 15 to 20 minutes or until golden brown.
Salmon corn chowder
Ingredients
1/4 cup unsalted butter
1 large onion, chopped
1 cup celery, diced
1 clove garlic, minced
2 tablespoons flour
3 1/2 cups  low-sodium chicken broth
2 cups half and half
1 can cream style corn
1/2 teaspoon salt, or to taste
1/4 teaspoon white pepper
1 can large salmon, drained and flaked
Parsley, chopped for garnish (optional)
Directions
Melt butter in large heavy saucepan over medium heat. Add onion, celery and garlic; cook 4 to 5 minutes until onion is translucent. Stir in flour until blended.
Gradually stir in a third of the broth. Bring to a boil, stirring constantly, and let cook until thickened. Stir in remaining broth, the half and half, corn, salt and pepper.
Simmer uncovered 15 minutes; do not boil again. Remove from heat and stir in salmon.
Garnish with parsley before serving.
Salmon souffle
Ingredients
2 small onions, finely chopped
6 tablespoons unsalted butter
1/2 pound smoked salmon, chopped
6 tablespoons flour
2 cups milk
8 large eggs, separated
3 tablespoons finely chopped fresh dill
1/2 cup grated Parmesan cheese
Directions
Preheat oven to 375 Fahrenheit. Butter and flour a 2-quart soufflé dish.
In a large saucepan cook onions in butter over medium heat, stirring, until softened. Add salmon and cook, stirring, 5 minutes. Stir in flour and cook over low heat, stirring, about 2 minutes.
In a small saucepan heat milk to a bare simmer. Gradually add to salmon mixture, stirring constantly.
Bring salmon mixture to a boil, stirring constantly, and cook until thickened, about 2 minutes.
Remove pan from heat and whisk in egg yolks, dill, and Parmesan. Transfer salmon mixture to a large bowl.
In another large bowl beat egg whites until stiff. Fold the egg whites gently into the salmon mixture, a third of the whites at a time.
Scrape into the prepared dish and place in the middle of the oven.
Reduce oven temperature to 350 Fahrenheit. and bake 50 minutes, or until puffed and golden and a tester comes out clean. Serve immediately.
Salmon with strawberry balsamic vinaigrette
Ingredients
2 pounds strawberries, divided
1 1/2 teaspoons dried basil
1 1/2 teaspoons dried oregano
1 1/2 teaspoons dried thyme
1 1/2 teaspoons minced garlic
1 teaspoon Kosher salt
1 teaspoon black pepper
3/4 teaspoon red pepper flakes
3/4 cup balsamic vinegar
3/4 cup olive oil
Salmon fillets, grilled
Sprigs of fresh thyme
Directions
Puree 1 ½ pounds strawberries in blender or processor. Transfer to bowl.
Add dried herbs, garlic, salt, pepper and pepper flakes; whisk thoroughly. Whisk in vinegar.
While whisking, add oil in a slow, steady stream. Cover and set aside.
Drizzle each salmon fillet with strawberry balsamic vinaigrette and garnish with halved strawberries and sprigs of thyme.
More salmon recipes