Recipe ideas for Girl Scout cookies
It's nearly impossible to think that one could ever get bored with a delectable Girl Scout cookie of any variety. But if you are looking for something inventive to do with all those extra Girl Scout cookies that you just couldn't turn down this year (we know, believe us!), then we've got a few ideas on how to turn your cookies into an even more indulgent treat. Take warning: these treats are not diet-friendly. But, trust us, these Girl Scout cookie splurges are worth it! Check out these four recipe ideas using leftover Girl Scout cookies.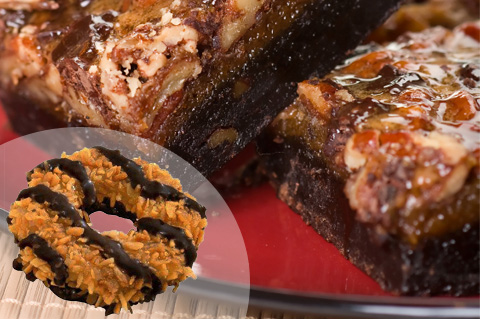 Samoas brownies
This kicked up brownie recipe is so good you'll never look at boring old brownies the same again.
Ingredients
1 chocolate 2-layer cake mix
3/4 cup unsalted butter, melted
1/3 cup evaporated milk
1 cup milk chocolate chips
1 1/4 cups caramel sauce
1 7-ounce box Samoas® - Caramel deLites™ Girl Scout Cookies, crushed, divided
Directions
Preheat oven to 350 degrees. Spray a 9 by 13-inch pan with cooking spray.
Mix dry cake mix, butter and evaporated milk until completely combined, then pour half of the mixture in the pan.
Bake for 5 to 6 minutes, then sprinkle the chocolate chips over the cake.
Pour 3/4 cup of the caramel sauce on top of the chips.
Then add 1/2 of the cookie crumbs.
Finally, pour the remaining cake mix over top and continue to bake for another 10 minutes until it sets up.
When you remove cake from the oven, top it with the remaining 1/2 cup caramel sauce and the remaining cookie crumbs.
Serve warm with vanilla ice cream.
Thin mint shake
This thick and creamy shake is Thin Mint heaven!
Ingredients
1 cup milk
1 cup ice cream
10 Thin mint cookies
Directions
Combine ingredients in blender until you reach a smooth consistency.
Serve in milk shake glasses with whip cream and a few extra crushed up Thin Mints on top.
Tagalong peanut butter pie
Peanut butter lovers unite! This thick and creamy pie is so decadent, all you'll need is one bite… But you'll eat far more than that!
Ingredients
1 package Tagalongs
1 3.5-ounce package vanilla pudding (powder)
1 1/2 cups milk
1/3 cup peanut butter
1 teaspoon vanilla
Directions
Grind entire package of Tagalongs in blender or food processor, then reserve 1/3 cup of cookies.
Press the rest of the crumbs into a nine-inch pie plate sprayed with cooking spray.
Prepare pudding mix according to directions on the package directions, but use only 1 1/2 cups milk.
Next, stir in peanut butter and vanilla. Pour mixture into pie plate and refrigerate until ready to serve.
Garnish with reserved cookie crumbs before serving.
Trefoil cream cheese pie
For shortbread lovers, this simple no-bake pie is a creamy and delicious indulgence.
Ingredients
1 box Trefoils, crushed and divided
4 tablespoons butter, melted
1 8-ounce tub cream cheese, softened
4 cups whipped topping, divided
2 8-ounce packages instant vanilla pudding mix
3 cups cold milk
Directions
Spray a 9 by 13-inch pan with cooking spray.
Set aside 1/4 cup of the Trefoil crumbs.
Mix the remaining crumbs with the melted butter and press mixture into the 9 by 13-inch pan.
Store in refrigerator.
Meanwhile, whip cream cheese with a hand mixer until light and fluffy.
Mix in 1 cup of the whipped topping, then spread over the chilled cookie crust.
Return to refrigerator to chill while next layer is being made.
 Combine pudding mix with milk, then pour over cream cheese layer and return to refrigerator again to chill 1 hour.
 Before serving, top pie with remaining whipped topping and cookie crumbs.
More on Girl Scout cookies