Red bell pepper recipes: Red food for Valentine's Day
Bell peppers are a delicious, colorful addition to many recipes. Green, yellow, red, orange -- they are so visually appealing. Choosing all one color, however, makes a special visual impact, and especially during February.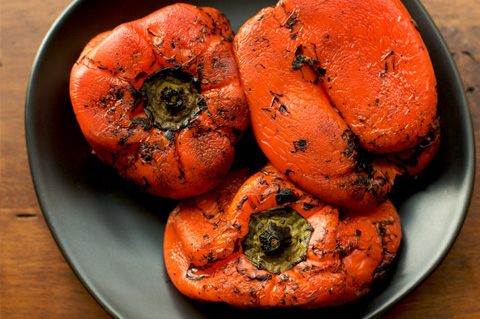 Red peppers, whether raw, cooked, or roasted, add a distinctive sweet taste to special meals and every day dishes alike. They also add more nutritional punch than green sweet peppers red peppers have almost twice the vitamin C and more carotene and lycopene than their green counterparts. While there is some discussion as to whether red peppers are an aphrodisiac, they do add amazing color and delicious flavor whenever you are cooking from the heart.
Roasted red peppers
Ingredients
Whole red peppers, washed
Directions
Either place a pepper on the tines of a roasting fork and hold the pepper a couple inches over the flame of a gas range. Turn the pepper as the skin blisters and chars, or place the pepper in a roasting pan in a preheated 450 oven, turning every 15 minutes until the pepper is completely charred.
While the pepper is still hot, place in a mixing bowl and cover with plastic wrap.
When the pepper is cool, peel off the charred skin and discard. Cut the top off the pepper and gently remove the seeds.
Roasted red pepper hummus
Ingredients
1 large can chickpeas, drained and rinsed
1 red bell pepper, roasted, peeled and seeded
1 tablespoon finely chopped red onion
1 clove of garlic, minced
1 tablespoon tahini
Juice of 1 lemon
2 tablespoons olive oil
1/2 teaspoon honey
¼ to 1/2 teaspoon ground cumin
1/2 – 1 teaspoon kosher salt
Directions
Combine all ingredients in a blender or food processor and process until smooth.
Sweet red pepper salad
Ingredients
6 medium sweet red peppers, roasted, peeled, seeded and cut into ¼ inch strips
1/2 cup olive oil
1/4 cup chopped fresh parsley
2 to 3 garlic cloves, minced
1/2 teaspoon dried oregano
1/4 teaspoon salt
Lettuce leaves, washed and dried
Directions
In a large bowl, combine the oil, parsley, garlic, oregano and salt. Add peppers and toss to coat.
Cover and chill for 3-4 hours. Serve on lettuce leaves.
Red pepper pesto
Ingredients
1 cup roasted red peppers, peeled and seeded
5 tablespoons olive oil
1/2 teaspoon balsamic vinegar
1/2 cup fresh basil
5 tablespoons shredded Parmesan cheese
3 cloves garlic, minced
2/3 cup toasted pine nuts
Kosher salt and freshly ground pepper to taste
Directions
In a blender or food processor, purée peppers with the oil until very smooth.
Add the vinegar, basil, cheese, garlic, nuts and salt and pepper to taste. Puree again until smooth.
Roasted red pepper soup
Ingredients
6 red peppers, roasted , peeled and seeded
2 tablespoons canola oil
2 medium onions, finely chopped
2 garlic cloves
2 teaspoons roasted red pepper flakes (optional)
1 teaspoon salt
1 medium can tomatoes, undrained
1 3/4 cups coconut milk
2 cups water
Directions
In a large saucepan over medium heat, heat the oil.
Add the onions, garlic, pepper flakes and salt. Saute until the onions are soft and translucent. Be careful not to scorch the garlic.
Add the red peppers, tomatoes, coconut milk and water.
Remove from heat. Using a hand blender (ore regular blender) puree until very smooth.
Gently return to a simmer and let cook about 20 minutes before serving.
Serve with a swirl of crème fraiche.
More recipes with red peppers