Strawberry recipes: Red food for Valentine's Day
We may be months away from fresh strawberry season but that doesn't mean you can't enjoy the sweet, rich taste of strawberries. And you don't have to pay a small fortune for the berries flown in from the other side of the world, either! Food preservation techniques have advanced so far that you can enjoy the sweet taste of summer strawberries year round. And that's terrific news with Valentine's Day just around the corner.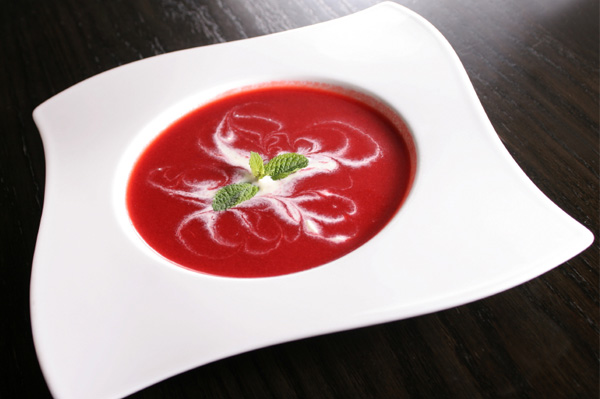 As heart shaped foods go, strawberries are near the top of the list. They are a must have for a certain February pseudo-holiday there's nothing like a ripe red strawberry! Not to mention they are rich in nutrients like vitamin C, manganese, folic acid and potassium.
Frozen unsweetened strawberries are similarly nutritious; look organic varieties in the natural food section of the market. While you won't be dipping these thawed berries into chocolate for display, they do very well for a variety of recipes, from soup to cocktails.
Strawberry soup
Ingredients
4 cups frozen strawberries, fully thawed, and any juice
2 cups plain low-fat yogurt
½ cup orange juice
½ cup sugar
½ cup water
1/8 teaspoon cardamom
Directions
Combine all ingredients in a blender and puree until smooth. Serve with a sprig of mint on top.
Salmon steaks with strawberry sauce
Ingredients
1 cup strawberries
1/4 cup crushed tomatoes
4 teaspoons malt vinegar
4 teaspoons reduced-salt soy sauce
1/4 teaspoon oregano
1/2 teaspoon basil
1 teaspoon chili flakes
1/4 teaspoon ground black pepper
4 sprigs parsley, chopped
1 ½ pounds salmon steaks
1 tablespoon extra virgin olive oil
2 garlic cloves, minced
Directions
Crush strawberries with a mortar  and pestle. Combine crushed strawberries and their juices with tomatoes, vinegar, soy sauce, oregano, basil, chili flakes, pepper and parsley. Stir well and refrigerate
Grill the salmon until done.
Meanwhile, heat the olive oil in a saucepan over medium hear. Add the garlic and saute five minutes.
Add strawberry sauce to the saucepan, lower heat and simmer ten minutes.
Place cooked salmon on a serving platter and pour hot strawberry sauce over it.
Strawberry champagne sorbet
Ingredients
1/2 cup sugar
1/2 cup water
1 10 ounce package frozen strawberries, thawed, with juices
2 tablespoons lemon juice
1 1/2 cups champagne
Extra/fresh strawberries for garnish
Directions
Combine sugar and water in a heavy saucepan; cook over medium heat, stirring constantly, until sugar dissolves. Remove from heat and let cook completely.
Place strawberries in a food processor; puree until smooth.
Combine pureed strawberries with cooled syrup, lemon juice and champagne. Chill 2 hours.
Place mixture in an ice cream maker and process according to manufacturers instructions.
Serve garnished with extra strawberries.
Strawberry pistachio tart
Ingredients
2 cups plus 2 tablespoonsunsalted butter, softened, divided
Pinch of kosher salt
1/3 cup confectioners sugar, sifted
1 cup shelled pistachios, ground, divided
2 eggs
1 teaspoon vanilla extract
1 2/3 cups flour
1/3 cup sugar
2 cups strawberries, fresh, or frozen and fully thawed
3 or 4 tablespoons strawberry jam
¼ cup shelled pistachios, chopped
Directions
Combine 14 tablespoons butter, ½ cup ground pistachios salt, and confectioners sugar until creamy.
Add one egg, vanilla and a tablespoon of flour. Beat until smooth.
Stir in the rest of the flour until it makes a sticky dough. Wrap in plastic and refrigerate one hour.
Combine remaining ground pistachios, remaining egg, sugar, and remaining butter until smooth. Refrigerate until firm.
Preheat oven to 375 Fahrenheit. Grease and flour a 10 inch tart pan.
Roll out the pastry on a board, then transfer to the tart pan, pressing the edges in where necessary. Dock the bottom of the pastry with a fork.
Spread the pistachio cream evenly along the bottom of the tart pan.
Bake 20 minutes. Allow to cool completely.
Heat the strawberry jam in a small saucepan.
Top the tart with the strawberries, and brush with the warm jam. Sprinkle with chopped pistachios.
Strawberry martini
Ingredients
Splash of dry vermouth
2 handfuls of strawberries
Small handful fresh mint leaves
2 handfuls of ice cubes
5 ounces vodka
Directions
Splash dry vermouth into well chilled martini glasses. Place 2-3 strawberries in the bottom of the glasses.
Put the remaining strawberries and the mind in a cocktail shaker and crush well with the handle of a spoon.
Add the ice cubes and vodka. Shake well and strain into the glasses.
More strawberry recipes
---
More From SheKnows Explorer
---
---