Tomato recipes: Red food for Valentine's Day
It seems appropriate that the tomato was once called the "love apple." What's not to love about this lycopene-rich fruit? Yes, fruit. And as Valentine's Day approaches, bright red, ripe tomatoes are particularly appropriate for romantic meals -- they are reputed to be an aphrodisiac!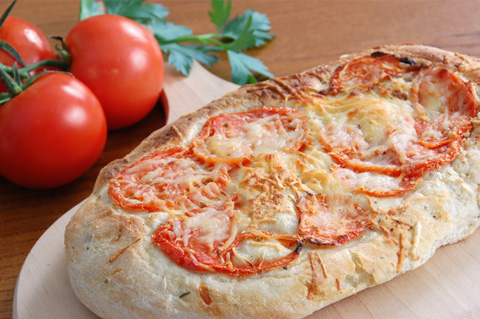 Sweet or savory, the tomato is a good source of several important nutrients which can be good for the heart as well as the heart. They contain vitamins A, B6, C, E, K, thiamin, niacin, folate, magnesium, phosphorus, copper, dietary fiber, potassium and manganese. Antioxidants such as lycopene are purported to be associated with lower risks of prostate and breast cancer. Whew! And they taste good, too!
Try using tomatoes beyond the ubiquitous sauce for pasta. They are versatile; you can use them in appetizers, soups, side dishes, and even desserts and drinks. There's no reason not to enjoy tomatoes today -- and maybe set the mood for tonight.
Tomato focaccia
Ingredients
2 ¾ teaspoons active dry yeast (1 package)
1 1/2 cups warm water, divided
4 cups flour
1 teaspoon salt
6 tablespoons olive oil
10 cherry tomatoes, halved
6 large fresh basil leaves
Coarse salt
Directions
Dissolve the yeast in 1/2 cup of the warm water, and let sit 10 minutes until bubbly.
In a large bowl, combine the flour, salt, yeast and remaining water. Mix thoroughly with a wooden spoon,  then begin kneading with your hands. Transfer to a floured work surface and knead by hand for a few minutes or until smooth.
Place dough in a well oiled bowl, cover with plastic wrap, and let rise until doubled, about 1 1/2 hours.
Preheat oven to 425 Fahrenheit.
Punch down the risen dough and place on an oiled baking sheet, pressing into an oval.
Scatter the tomato halves over the surface of the dough, then sprinkle the shredded basil leaves. Dimple the top surface with your finger tips, and then drizzle with the oil and sprinkle with coarse salt.
Bake about 20 minutes or until golden. Serve warm or at room temperature.
Tomato cabernet soup
Ingredients
1 tablespoon olive oil
2 large Spanish onions, finely chopped
3 large cans crushed tomatoes
1 tablespoon brown sugar
1 quart vegetable broth
Kosher salt and freshly ground pepper to taste
1 ½ cups red wine
Olive oil and shopped fresh basil for garnish
Directions
In a large saucepan over medium heat, heat the olive oil. Add the onions and saute until soft and translucent.
Add the tomatoes and brown sugar, then add the vegetable broth.
Using a hand blender, puree the soup until smooth.
Add the wine and then adjust seasoning with the salt and pepper.
Bring to a boil, then reduce heat and let simmer 40 minutes.
Serve with a drizzle of olive oil and chopped basil.
Fried tomatoes
Fried green tomatoes may have been made famous by a movie, but these are fried red tomatoes. They make the most decadent, delicious BLT you've ever had. You're welcome.
Ingredients
¼ cup flour
2 eggs, beaten
1/4 cup fresh basil, chopped
1/4 cup onions, very finely chopped
1 teaspoon garlic, minced
Salt and freshly ground pepper, to taste
1 cup panko bread crumbs
4 tablespoons olive oil, plus more if needed
4 large, firm red tomatoes, fairly thickly sliced
Directions
Place the flour in a shallow dish and the beaten eggs in another. In a third, combine the basil, onion, garlic, salt and pepper and bread crumbs. Toss well.
Heat the olive oil in a skillet.
Dredge each tomato slice first in the flour, then the egg, then the breadcrumb mixture. Fry in the olive oil until brown on each side.
Drain on paper towels. Use immediately.
Homemade Bloody Mary Mix
You'll never buy store-bought again!
Ingredients
1 tablespoon olive oil
1 small onion, chopped
2 jalapeno peppers, very finely chopped
6 garlic cloves, minced
3 pounds ripe tomatoes, chopped
¼ cup celery leaves, chopped
1 lemon, juiced
4 tablespoon horseradish
Kosher salt and freshly ground black pepper to taste
2 teaspoon Worcestershire sauce
2 teaspoon celery seed
Directions
In a saucepan over medium heat, heat the olive oil. Add the onions, garlic and jalapeno and gently cook until the onions are barely translucent and softened. Do not brown!
Add the tomatoes and cook until most of the tomato juices have been released. Reduce heat and let cook until the much of the liquid has evaporated.
Add lemon juice, horseradish, Worcestershire, celery seed and celery leaves.  Puree in a blender, then chill  completely. Adjust seasonings once the mixture is chilled.
To make a cocktail using the mix, combine 2/3 cup mix with 2 ounces vodka. Shake and pour over ice.
More tomato recipes