New Year's kitchen resolutions
Kids of all ages love to help in the kitchen, and the more involved they are in planning meals, grocery shopping and learning where their food comes from, the more inclined they'll be to try new things. Incorporate these New Year's Resolutions into your family kitchen for some new meal ideas throughout the year.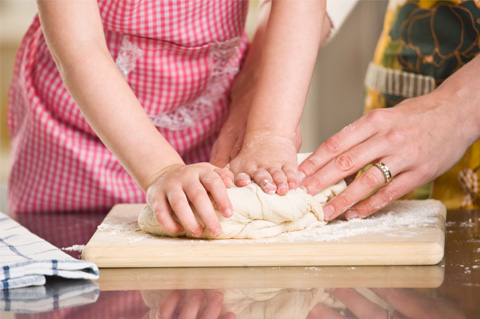 Try a food from a different culture/part of the world each month
My neighborhood in Chicago is filled with specialty ethnic food markets from Swedish to Mexican, Ethiopian to Vietnamese and more. If markets like these aren't near your community, you may be surprised to see the variety of ethnic ingredients available in major supermarkets. Dry ingredients, like noodles and beans are typically available in ethnic aisles, while fresh items like tofu or pepper varieties can be found in the produce section.
Chances are your kids have tasted common ethnic foods like Italian, Mexican or Chinese. This year, why not venture our of your comfort zone and try making a Greek, Middle Eastern or Ethiopian dish? The choices are endless. 
Julia H. of Muncie, Indiana provided this Middle Eastern recipe:
Middle Eastern lentil stew

Ingredients

1 cup lentils, washed and picked over
1 quart vegetable broth
2 or 3 carrots, cut into thin slices crosswise
1 can fire roasted tomatoes
1 large onion, chopped
1 teaspoon ground allspice
1 tablespoon paprika
½ teaspoon ground cinnamon
1 teaspoon cumin
1 to 2 cups raw spinach leaves

Directions

Put all ingredients except the spinach into a slow cooker and stir together. 
Cook on low for 6 hours. 
Stir in spinach leaves and turn the cooker either "off" or onto "warm."
Let sit 5 to 10 minutes until spinach is wilted. 
Serve over rice or couscous if desired.
Makes about 6 large servings.  
Bake bread together
Sure, you can always pick up bread or rolls at the grocery store, but why not start the new year by baking bread at home? Whether you make bread by scratch, or use prepared dough as a base, baking together will create memories to last throughout the year.
Ask the kids to help make a grocery list
If "Mom, I don't want to eat this!" is a common complaint at meal time, this resolution is for you.
By helping with the grocery list, kids become active participants in choosing ingredients and helping plan meals for the week. It's not just a great way to get kids involved, it's also a great way to stick to the list -- and to your grocery budget -- a New Year's Resolution itself!
Visit a farmers market 
There's nothing like browsing farm-fresh produce, grains, meats and dairy at a farmer's market. Not only are the foods incredible, so is the experience of getting to know your farmer. In this day and age of processed foods, learning where fresh ingredients come from is a terrific experience for the family. 
Make a meatless meal once a week
Colette B., a mom in Chicago, Illinois, incorporates "Meatless Mondays" with her family. "It's healthier to eat less meat, and it's cheaper to cook without meat or with limited animal products," she explains. "And, I wanted to encourage my children to eat a wider variety of foods." 
This salad recipe incorporates all 5 New Year's kitchen resolutions - the salad is Greek, you can bake the bread, the kids can help write the grocery list, you can purchase most of the ingredients at a farmers market, and it's meatless.
Greek salad with fresh bread

Serves 6

Ingredients 

2 large heads romaine lettuce
1/2 cup pitted kalamata olives
1 red onion, sliced
1 green pepper, sliced
1 cup fresh feta cheese, cubed 

Directions

Combine all ingredients in large salad bowl.
Toss with salad dressing of choice -- Greek, red wine and vinegar or balsamic are good choices.
Serve with fresh bread.
More family-friendly vegetarian recipes