Easy ethnic lunches for kids
If the thought of making another boring sandwich makes you and your kids say "blah," try one of these yummy lunch ideas instead. These easy, ethnic lunches incorporate flavors from around the world and are fun to make and eat.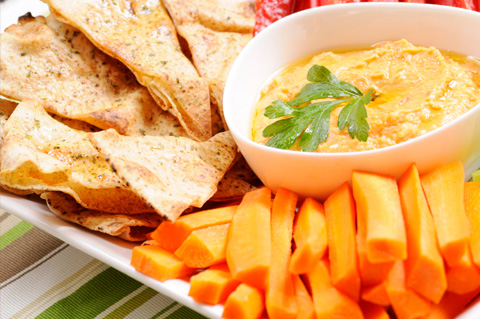 Hummus with pita chips
Many varieties of hummus are available in supermarkets. Variety of hummus available in grocery stores or you can make your own. Traditional hummus is a simple, delicious blend of garbanzo beans and olive oil. Depending on your child's taste, you can purchase hummus flavored with additional spices such as red pepper, garlic, or parsley.
It's also easy to make homemade hummus:
Ingredients
1 can garbanzo beans, drained
¼ cup olive oil
2 garlic cloves
1 tsp lemon juice
Directions
Combine all ingredients in blender.
Pulse until desired consistency is reached --for a more rustic, chunkier hummus. For a smoother hummus, drizzle in additional olive oil and blend until smooth.
Serve with plain or flavored pita chips for dipping.
Veggie sushi
Veggie sushi is a fun alternative to a sandwich -- no worries about raw fish and a great way to get kids to eat their vegetables. Many supermarkets carry prepared vegetable sushi rolls, or you can make your own.
Ingredients
Sushi rice -- available in Asian aisle at supermarket
Rice vinegar
1 square dried seaweed
1 carrot, diced
1/2 cucumber, diced
Sesame seeds, optional 
Directions
Prepare sushi rice according to package directions.
Place small amount of cooked sushi rice on large piece of plastic wrap. Smooth out rice with fingertips.
Add carrot and cucumber crosswise on rice.
Gently roll rice mixture into a log -- if you have a sushi making kit, the bamboo mat will help.
Slice roll into 6 slices.
Mexican bean and cheese burritto
Ingredients
1 flour tortilla
1/4 cup refried beans
1/4 cup shredded cheese - cheddar or Mexican 4-cheese blend work well
1 Tbsp salsa -- optional
Directions
Spread refried beans onto tortilla.
Add cheese and salsa.
Roll into burrito. 
Ethnic breads for sandwiches
Add some international flavor to lunch by keeping your child's favorite sandwich fillings but swapping traditional white or wheat bread for one of these choices. These ethnic breads can be found at most supermarkets:
Pita - Middle Eastern pocket bread in a variety of sizes from very large to mini pitas for the youngest kids in the family.
Naan - Traditional Indian bread, plain or seasoned.
Flour tortilla - A Mexican favorite that's easy to roll-up.
More kid-friendly ethnic food ideas