Almond butter recipes
With peanut allergies abound, almond butter has become the darling of sandwich spreads. This delectable peanut butter alternative isn't just for pairing with jelly, however, almond butter can become a star ingredient in many savory meals and sweet treats. Here are three tasty – and healthy! – almond butter recipes.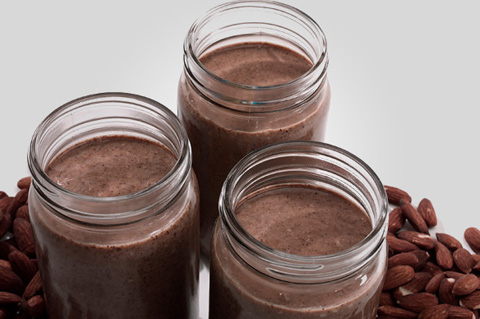 Chicken with almond butter sauce
Serves 4
Ingredients
Olive oil
4 boneless, skinless chicken breast halves, pounded to an even thickness
Salt and freshly ground black pepper
1 cup chopped onion
1/2 cup chopped red bell pepper
2/3 cup honey
2/3 cup smooth almond butter
1 teaspoon dried Italian seasoning
1 cup chicken broth
Juice of 1 lemon
2 teaspoons cornstarch
1 tablespoon water
Directions
Heat 2 tablespoons olive oil in a large skillet over medium heat. Place chicken in skillet and season with salt and pepper. Cover skillet and cook for 3 to 4 minutes or until the bottom is lightly browned.
Flip chicken and season with salt and pepper. Cover skillet and cook 3 to 4 minutes or until chicken is cooked through (time will vary depending on the thickness of the breasts). Transfer chicken to a plate, cover with foil, and keep warm.
Add more oil to skillet if it is dry. Cook onion and bell pepper, stirring often, until vegetables are softened.
Meanwhile, whisk together honey, almond butter, seasoning, and lemon juice. Pour it into the skillet and bring to a vigorous simmer.
Whisk together cornstarch and water in a small bowl and pour into skillet, stirring until thickened.
Place chicken on a plate and serve with almond butter sauce.
Pasta and chipotle almond butter sauce
Serves 6
Ingredients
12 ounces whole wheat linguini
2 cups fresh cilantro leaves
1 to 2 chipotle peppers in adobo sauce
2 cloves garlic
1/2 cup smooth almond butter
Juice and zest of 1 lime
3 ounces goat cheese
1/3 cup olive oil, more for a thinner sauce
Salt and freshly ground pepper to taste
Grated cheese of your choice
Directions
Cook pasta in a large pot of salted boiling water according to package directions.
Meanwhile, in a food processor, combine cilantro, peppers, garlic, almond butter, lime juice and zest, and goat cheese. Puree ingredients and, with machine running, add olive oil. Season with salt and pepper.
Drain pasta and place in a large bowl. Add almond butter sauce and toss to coat. Serve warm.
Whole grain almond butter muffins
Makes 12 muffins
Ingredients
1-1/2 cups white whole wheat flour
1/2 cup blanched almond flour
1-1/2 teaspoons baking powder
1/2 teaspoon salt
1/2 cup smooth almond butter
2 tablespoons finely grated orange zest
2 eggs
1/3 cup honey
3/4 cup buttermilk
3/4 cup dried currants
Directions
Preheat oven to 375 F degrees and coat a 12-cup muffin pan with cooking spray. 
In a large bowl, whisk together flours, baking powder, and salt.
In the bowl of a stand up mixer, blend almond butter, eggs, honey, and buttermilk until smooth. Add flour mixture and mix just until moist. Stir in currants.
Fill muffin pan with batter. Bake for 20 minutes or until muffins spring back when gently touched.
More almond butter recipes