Kid-friendly tailgating recipes
Football season is in full swing and your kids are either tuned in to the game day action or they are (perhaps unwilling) bystanders in your tailgating football weekend fun. Though you may love chili and buffalo wings, these tailgate foods may be too spicy for young palates. Keep your kids entertained and well-fed with these kid-friendly tailgating recipes.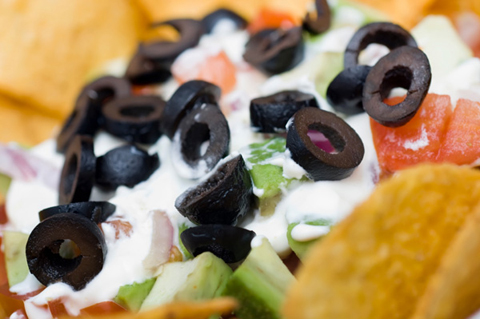 Chicken pineapple kabobs
Serves 8
Ingredients
4 skinless, boneless chicken breasts, cut into bite-sized pieces
1 (15-ounce) can pineapple chunks, drained (reserve juice)
2 tablespoons honey
2 tablespoons soy sauce
2 tablespoons sesame oil
16 bamboo skewers, soaked in water for at least 30 minutes
Directions
Preheat oven to 350 degrees F and spray a baking sheet with cooking spray.
Meanwhile, place chicken and pineapple chunks in a large bowl.
In a small bowl, whisk together 1/2 cup of reserved pineapple juice, honey, soy sauce and oil. Pour honey mixture over chicken mixture and toss to coat well. Marinate for at least 30 minutes.
Thread chicken and pineapple onto skewers and brush with any remaining marinade.
Bake for 20 minutes or until chicken is cooked through.
Cook's note: You can also grill these if you have a portable grill or your tailgating venue has a grill.
5-Layer bean dip
Serves 8
Ingredients
1 (15-ounce) can vegetarian refried beans
Salt and pepper to taste
1 (15-ounce) can fire-roasted diced tomatoes, drained
1 (15-ounce) can black olives, chopped or sliced
1 cup shredded Monterrey Jack cheese
4 to 5 large green onions, chopped (green and white parts)
Directions
Warm beans in a saucepan over medium heat, stirring occasionally.
Spray an 11x7-inch baking dish with cooking spray. Spread beans on the bottom.
Continue to layer with tomatoes, olives, cheese, onions and serve.
Cheesy fruit quesadillas
Serves 8
Ingredients
2 tablespoons butter
2 small apples, cored, halved, thinly sliced
Sprinkle of ground cinnamon
4 (10-inch) whole wheat tortillas
2-1/2 cups shredded mild cheddar cheese
Directions
In a large skillet, melt butter over medium heat. Add apples and sprinkle with cinnamon. Cook, stirring often, until apples are tender.
Transfer apples to a large plate. Clean out the skillet and place over medium heat. Spray generously with cooking spray.
Fill tortillas with apple slices and shredded cheese, folding each one over to make semi-circles.
Place two quesadillas in the skillet and cover with a lid. Cook for 2 minutes or until bottom is lightly browned.
Carefully flip quesadillas and cook another 2 to 3 minutes or until cheese is melted.
Transfer to a cutting board and cut each quesadilla into four wedges. Repeat with remaining quesadillas and serve warm.
More tailgating tips and recipes