Burned on purpose: Recipes using "burnt" caramel
Making caramel is something of an art. Whether it's caramel for flan, for a sauce, or some other application, taking caramel to just that right stage of golden deliciousness takes some practice. In that practice you may, on occasion, take that caramel too far -- too dark, too fragrant, too….burned. It's ruined, right? So just throw it out, right? Not so fast. You can use that burnt caramel in some incredibly delicious and sophisticated recipes -- the flavor is something of a revelation, actually. You may even start to burn the caramel on purpose.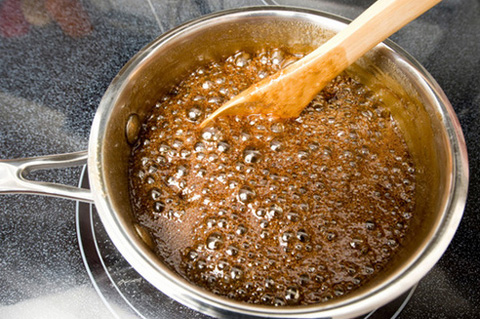 Burnt caramel is not a subtle ingredient. You know when you've burned it. You may curse yourself that you took your eyes off that saucepan for a moment too long and think you've wasted some ingredients. Provided you haven't set off the fire alarm and summoned the local emergency services, however, you can use it. It may not be the most obvious ingredient, and your kids my turn up their noses (Not a bad thing! More for you!) -- but here are some amazing recipes to make something wonderful out of that lapse in attention.
Burnt caramel ice cream
Ingredients
1 cup sugar
1 cup hot water
4 eggs
1/2 cup powdered sugar
2 cups heavy cream
1 teaspoon vanilla extract
Directions
In a heavy duty saucepan over medium high heat, combine the sugar and ¼ cup water. Stir while the sugar melts, bring to a boil, then stir occasionally until the mixture is dark brown. The sugar will be very, very hot.
Remove from heat and gradually stir in remaining water. Set aside and let cool to room temperature.
In a medium bowl, beat the eggs until they start to lighten in color. Gradually beat in powdered sugar.
Stir in cream, vanilla and cooled caramel.
Refrigerate for several hours, then process through an ice cream maker according to manufacturer's directions.
Burnt caramel sauce
Perhaps burnt caramel ice cream seems like too much. Try this burnt caramel sauce over vanilla ice cream or other dairy based desserts.
Ingredients
2 cups sugar
1 cup plus 2 tablespoons heavy cream
1/2 cup light corn syrup
10 tablespoons unsalted butter at room temperature
Directions
In a heavy duty sauce pan over medium heat, met the sugar, stirring occasionally. Bring to a heavy simmer and allow to cook until the sugar is very dark brown, almost black. The sugar will be smoking just slightly as bubble break on the surface.
Meanwhile, bring the cream to a simmer in a small saucepan over medium heat.
Remove the melted sugar from the heat and stir in the corn syrup. Place a sieve over the top of the saucepan and slowly our the hot cream into the sugar/syrup mixtue. (The sieve will help protect you as the mixture sputters). Stir in the butter.
Scrape the sauce into a bowl and let cool before using.
Burnt caramel almonds
Ingredients
1/2 cup sugar
4 tablespoons butter
1 cup slivered blanched almonds
Pinch of kosher salt
Directions
Grease a cookies sheet, or line a cookie sheet with parchment paper and spray the paper with a little cooking spray.
In a heavy saucepan over medium heat, melt the sugar and bring to a heavy simmer. When the sugar starts to turn brown, temporarily remove from hear, carefully add the butter, almonds and salt, then return to the heat and let cook until very dark brown, stirring constantly.
Scrape onto the greased cookie sheet and let cool.
Break into pieces and store airtight.
Burnt caramel pots du crème
These are much like crème brulee -- just without the bruleed top.
Ingredients
1/3 cup sugar
1 tablespoon water
1/3 whole milk
1 cup heavy whipping cream
3 large egg yolks
3 ounces milk chocolate, chopped
Directions
Preheat oven to 300 Fahrenheit.
In a heavy saucepan over medium heat, melt the sugar in the water. Bring to a heavy simmer and let cook until the sugar turns dark brown.
In another saucepan, combine milk and cream and bring to a simmer.
Remove the sugar from the heat. Place a sieve over the saucepan and carefully add the hot milk and cream, a little at a time. Whisk well to remove any caramel from the bottom of the pan.
In a bowl, whisk the egg yolks, then very slowly whisk in the caramel mixture. You want to temper the eggs, not scramble them!
Add the chocolate and stir until the chocolate is melted. Strain into ramekins.
Place the ramekins in a baking dish, then carefully pour boiling water into the baking dish so water comes half way up the sides of the ramekins. Cover with aluminum foil.
Bake 20-30 minutes, until the centers are set. Remove from the oven, remove the ramekins from the baking dish, and let cool.
Refrigerate overnight but let come to room temperature before serving.
More recipes with caramel