5 Ways to use yogurt in your cookig
When you think of yogurt, you probably think of breakfast or light snacking. On its own or with some granola stirred it, plain or flavored yogurt with active live cultures is a delicious and healthy way to get some calcium and protein while not over-doing it calorie wise.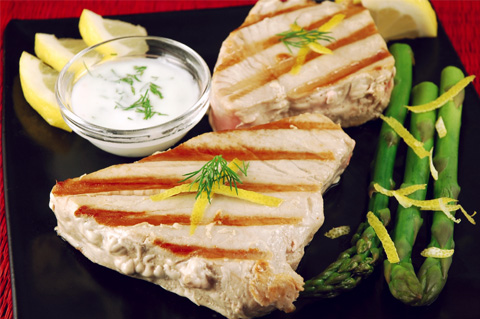 However, if you only think about yogurt in this way, you are missing out. Yogurt can be used in your regular cooking, sometimes as a complete replacement, and sometimes as a partial replacement. It can lighten up some dishes and add tang to others. Try these ways to add yogurt to your cooking.
In place of sour cream or cream fraiche in sauces
Some sauces, such as in stroganoffs, use sour cream to add flavor, body and creaminess to the dish. You can completely substitute plain yogurt for sour cream in such dishes for a third of the calories. If you want to lighten up a dish but don't want to eliminate the rich dairy product completely, substitute yogurt for half; you'll still lighten up the dish a bit and have a delicious meal.
As a garnish for thick winter soups
Thick, hearty winter soups, such as butternut squash soup, are lovely with a drizzle of cream on top or even a dollop of sour cream. Substitute thicker Greek-style yogurt and you'll be able to add more of the creaminess without going overboard on fat and calories.
In a marinade
Indian and middle eastern cuisines often used yogurt in marinades for meat and poultry. Yogurt is a natural meat tenderizer! Try making a simple marinate at home by combining plain yogurt with a little olive oil and spices and marinating your lamb or chicken in it overnight. Then braise the meat or grill it or prepare it however you'd like for a delicious meal.
In baking
Yes, yogurt absolutely can be used in baking. Don't have buttermilk for pancakes on Saturday morning? Trying using some yogurt to tang up your flapjacks. Look for recipes for quick breads and muffins that use yogurt and a little canola oil instead of butter, margarine or shortening. The moistness of the resulting product will be a revelation!
As a mayonnaise substitute
As a condiment and on ingredient, mayonnaise is delicious. But, oh, the calories and fat! When you are trying to lighten up meals, it can be hard to give up mayonnaise! Rather than give it up entirely, you can substitute a portion of the mayonnaise in a dish with plain yogurt (thicker styles or even homemade yogurt "cheese" work best) to light up the dish. You might even like your favorite chicken salad better with the yogurt addition!
Recipes with yogurt