Winter cocktails for holiday celebrations
It's holiday entertaining season and that means lots of delicious food with a holiday twist. Cranberry, gingerbread, pumpkin and apple are all common winter flavors found in foods from appetizer through dessert. What about the beverages, though? Yes, you can use these flavors in delicious winter cocktails -- and they are sure to be the hit of your holiday gathering!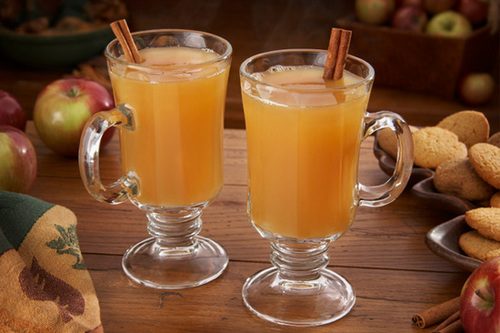 You've likely seen or tasted winter concoctions when out at restaurants. Bartenders have a wide range of custom liqueurs and ingredients at their disposal; you may think that creating such winter drinks at home is onerous and expensive because you have to buy all those ingredients. Not so. You can create terrific winter cocktails using many of the ingredients you already have on hand for your holiday cooking.
Gingerbread martini
Ingredients
2 ounces vodka
½ ounce gingerbread syrup
Cinnamon stick
Directions
Combine the vodka and gingerbread syrup in a cocktail shaker with ice.
Shake vigorously. Strain into a martini glass and garnish with the cinnamon stick.
Gingerbread syrup
Also delicious in lattes!
Ingredients
1 1/2 cups water
1 cup granulated sugar
1/4 teaspoonpoons ground ginger
1/4 teaspoonpoon ground cinnamon
1/4 teaspoonpoon vanilla extract
Directions
Bring all the ingredients to a simmer in a medium saucepan. Let simmer 20 minutes.
Cool thoroughly. Strain into a container and chill until ready to use.
Apple cider cocktail
Ingredients
1/2 gallon fresh apple cider
5 cinnamon sticks
3 anise pods
2 teaspoons whole cloves
1/2 cup extra dark rum or spiced rum
Candied orange peel
Directions
Combine the cider and spices in a large saucepan. Bring to a boil, then reduce heat and let simmer 15 minutes.
Let cool completely, then strain into a clean container. Add the rum and mix well. Serve with candied orange peel for garnish.
Up next: More Winter cocktails for holiday celebrations >>