Family holiday food traditions
When you live in a family where everyone has their own tastes in food or different backgrounds, Thanksgiving and Christmas dinners start to seem like a battleground. Even if it's just that one of you is from the North and one from the South, you'll inevitably fight over cornbread or sourdough stuffing.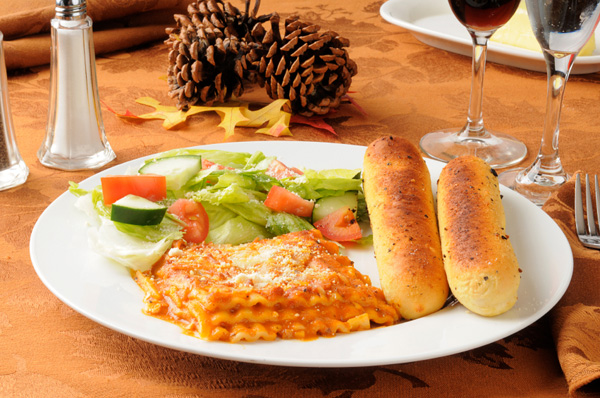 ChefMom and SheKnows writer, chef and mom Dawn Viola takes a different approach, though. We caught up with Dawn to find out how she manages the influence her Italian heritage and her daughter's unique tastes have on her holiday meals.
ChefMom: Dawn, tell us about your traditional Thanksgiving and Christmas dinners. How did your husband feel about adding lasagna to the feast?
Viola: When I got married, my husband had his own ideas about food traditions, which were thankfully similar to mine — where American and Italian recipes share equal table space. But when our daughter was born and started developing her own tastes, she began requesting that her favorite weeknight dinner recipes be added to our holiday meals. Eventually, new food traditions wiggled their way into our annual celebrations.
ChefMom: So what's it like most years?
Viola: Today, it's a little bit American, a little bit Italian, a little bit weeknight dinner and a whole lot of good food, family and fun — something to which we look forward to every year.
ChefMom: What's on the menu this year? Anything that might surprise our readers?
Viola: This year, like many, we're taking a back-to-basics approach to Thanksgiving and Christmas. Thanksgiving will focus on the all-American meal of roasted turkey, mashed potatoes and gravy, green beans, stuffing and apple and pumpkin pies for dessert. Christmas will be all Italian with torrone, escarole soup, 7 fishes on Christmas Eve and a gorgeous mile-high lasagna on Christmas day.
Try Dawn's traditional Thanksgiving menu
Roasted turkey recipe
Creamy loaded mashed potatoes recipe
Fool-proof gravy
5 Of the best green bean casserole recipes
Choose your favorite stuffing recipe
The perfect apple pie recipe
Slow-cooker pumpkin pie
Try Dawn's Italian Christmas Eve menu
Christmas candy: torrone
Escarole soup with turkey meatballs recipe
Feast of the Seven Fishes made easy
For Christmas Day: Lasagna
About Dawn Viola
Dawn Viola is a research and development chef and food writer. She serves on the board of directors for Slow Food Orlando, and works with local and national companies as a healthy recipe consultant with a focus on organic, local and sustainable ingredients. After an accomplished career as a copywriter, creative director and documentary producer in the advertising industry for over a decade, Dawn switched her writing focus to food and enrolled in culinary school when she discovered she had multiple food allergies. She graduated with honors from the culinary management program at Valencia College, completed her externship at America's Test Kitchen and Cook's Illustrated magazine in Boston, and began teaching others how to cook with a back-to-basics approach. When Dawn isn't writing delicious stories for SheKnows, you'll find her stirring the pot on Twitter, Facebook and her blog, DawnViola.com, named a top-ten food blog four years running for her commitment to cooking with organic, sustainable and local ingredients.
Happy holidays from all of us at ChefMom!