5 Things to have on hand for last-minute holiday entertaining
Whether an impromptu office party, a forgotten bake sale at school or a last-minute get together with family and friends, keeping your pantry stocked with these fab-five holiday helpers will keep you stress-free, merry and bright: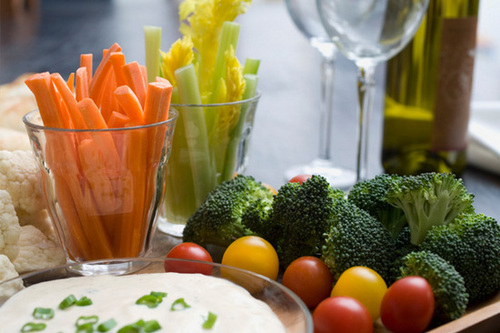 The baker's half-dozen
Always keep flour, sugar, salt, butter, eggs, baking powder and baking soda in your pantry during the holidays. These 7 magical holiday ingredients can be turned into hundreds of pie, cookie and quick bread recipes in a snap.
Crudités
Carrots, celery, bell peppers, cucumbers and goat cheese can be turned into an impressive platter in no time. Slice vegetables on the bias or in long sticks, and mix goat cheese with fresh or dried herbs. Take it a step further and add grapes, dried fruits, crackers, hard salami and additional cheeses.
Olives
Olives can be marinated in garlic, oil, fresh herbs and citrus zest, or pureed and served as tapenade with crusty bread for a quick appetizer.
Something sparkling
Whether cider, mineral water or wine, keep a bubbly bottle of your favorite fizzy drink ice cold and ready for last minute holiday entertaining.
Holiday music
To set the mood, keep at least one holiday music CD in the mixer at all times.  When the doorbell rings, press play. Keep one in your car, too, in case of music emergencies this holiday season. 
More Holiday Entertaining Tips
Holiday Entertaining Made Easy
Holiday Entertaining Checklist