3 Simple suppers using French bread
If there's one staple ingredient to always keep on hand in your kitchen, French bread is hard to beat for its incredible versatility. From French bread pizza to hamburger French bread boat to barbecued beef rounds on French Bread – these three simple suppers can be whipped up in hardly any time at all and are sure to be a hit with your family.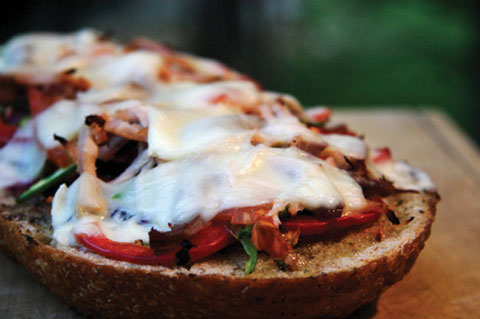 French bread pizza
Serves 6-8
Always looking for new ways to use leftover chicken or rotisserie chicken? This French bread pizza recipe is a great one.
With three kinds of cheeses, garlic and red peppers, this recipe for French bread pizza is tasty and satisfying. Serve this chicken French Bread Pizza for lunch, as a snack or for dinner.
Ingredients:
1/4 cup butter, softened
2 tablespoons olive oil
3/4 cup grated Asiago or Romano cheese
2 tablespoons minced garlic
1 teaspoon dried basil
1/4 cup finely-diced red bell pepper
1/2 teaspoon black pepper
1 (16 ounce) loaf French bread
2 cups shredded rotisserie chicken
1 cup shredded mozzarella cheese
1 cup grated Parmesan cheese
Directions:
Preheat oven to 400 degrees F. In a small bowl, stir together the first 7 ingredients (through black pepper).
Slice French bread in half lengthwise. Cut each half crosswise into 3 pieces.
Spread butter mixture over each piece.
Top with rotisserie chicken.
Sprinkle mozzarella and Parmesan cheeses over chicken.
Bake 8-12 minutes until cheese is melted and golden brown.
Hamburger in French bread boat
Serves 6-8
Ingredients:
1 loaf French bread
2 pounds lean ground meat (ground finely)
2/3 cup low-fat evaporated milk
1/2 cup Italian breadcrumbs
1 egg
1/2 cup chopped onion (sauteed lightly first)
1 teaspoon prepared mustard
1-1/2 teaspoons salt
3/4 teaspoon Accent Seasoning (optional)
Pepper to taste
2 cups grated cheddar or American cheese
Directions:
Mix all ingredients except cheese in large bowl. Slice loaf of French bread in half lengthwise and scoop out center. Butter lightly.
Put in thin layers of meat mixture and grated cheese finishing up with cheese. Wrap foil around bread only and bake in oven heated to 350 degrees F for about 30 minutes.
If crisp top is desired, turn oven to broil for last couple of minutes, being careful not to let it burn. Cut to desired number of servings. Serve along with big tossed salad for easy supper.
Barbecued beef rounds on French bread
Serves 6-8
Ingredients:
6 pounds eye of round roast
1/4 cup barbecue sauce
1/2 cup olive oil
1/4 cup lemon juice
1 teaspoon salt
1-1/2 teaspoons dried rosemary leaves
1 loaf French bread
1/2 cup ketchup
1 bay leaf, crumbled
1/4 teaspoon pepper
Directions:
Heat the oven to 350 degrees F. Wipe beef with damp paper towels. Place in shallow baking dish. In small bowl, combine oil, ketchup, lemon juice, bay leaf, salt, pepper and rosemary. Pour over beef and leave to marinate for 10 minutes.
Heat a skillet on high and drizzle with olive oil. Sear the roast on all sides before placing in a roasting pan in the oven. Remove when temperature probe reaches 130 degrees F to 140 degrees F for medium-rare.
To serve, remove meat from oven and let stand 10 minutes before carving. Slice thinly and serve on slices of buttered French bread with meat juices.
More simple dinner recipes
Dinner shortcuts: Sloppy Joe squares
5 Great frozen products that simplify dinner
Dinner shortcuts: Creamy cheese tortellini skillet supper