Thanksgiving leftovers: The classic turkey sandwich
There's a lot to be said about a classic turkey sandwich, but with everyone so busy trying to reinvent the the day after Thanksgiving turkey surprise, you hardly see the sandwich getting any props.

With back-to-basics thankfully en vogue this season, we're paying homage to your free-range, farm-raised turkey with a simple, honest, classic turkey sandwich, with homemade tarragon mayonnaise. It's good; it's quick; it's healthy; and it's way better than the turkey surprise your neighbor is cooking right now.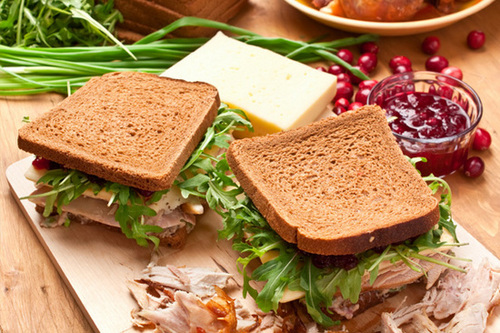 Classic turkey sandwich with tarragon mayonnaise
Serves 4
Ingredients
2 egg yolks
1/4 tsp. Dijon mustard
1 teaspoon fresh lemon juice
Canola or sunflower oil
1 small garlic clove, minced
1 tablespoon chopped fresh tarragon
8 slices wheat bread
8 slices turkey breast
4 ribs Romaine lettuce
4 slices Havarti
1 apple or pear, sliced thin, divided
Directions
In a medium bowl whisk egg yolks and mustard. Add lemon juice; stream in oil while whisking until mixture is desired consistency, about 1 cup. Stir in garlic and tarragon; season with salt and freshly cracked pepper to taste. Cover and refrigerate until ready to use.
Slather two slices of the bread with the tarragon mayonnaise; set aside. On one of the slices of bread, top with two slices of the turkey, 1 rib of the lettuce, 1 slice of Havarti and 2 slices of apple. Top apple with the remaining slice of slathered bread (mayonnaise side facing the apple). Repeat for 3 additional sandwiches. Serve immediately.