3 Sweet potato casseroles
'Tis the season when visions of sweet potato casseroles dance in cooks' heads. From traditional preparations to a low-calorie casserole that doesn't lose flavor, these sweet potato casserole recipes are sure to add flavor to your holiday table.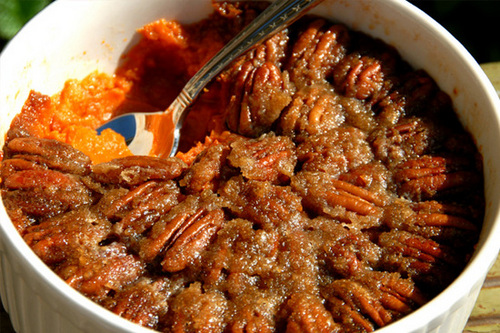 Mandy Potter, author of the Cooking with Healthy Girl cookbook, shares her recipe for a new, healthier take on sweet potato casserole that loses calories without losing sweetness.
Sweet potato casserole with pineapples
Serves 4
"Adding pineapple to sweet potatoes, along with cinnamon and honey, gives this dish a perfect sweetness," says Potter. "This dish offers a great amount of vitamins C and A, both of which are great for the immune system."
Ingredients
2 sweet potatoes, peeled and diced
1 8 oz. can pineapple chunks, drained
1/4 teaspoon cinnamon
2 tablespoons honey
1/4 teaspoon salt
1/4 teaspoon pepper
Directions
Preheat oven to 350°F.
Add diced sweet potatoes to a pot, and fill with enough water to cover the potatoes. Bring to a boil over high heat.
Once boiling, reduce heat and allow to cook until potatoes are fork tender.
Drain potatoes and return them to the hot pot.
Add pineapple, cinnamon, honey, salt, and pepper and toss to coat.
Transfer to an 8-inch baking dish, and bake for 12-15 minutes.
Praline-crisped sweet potatoes
Serves 8
"This recipe takes sweet potatoes from ordinary to extraordinary with the addition of sweet coconut and chopped pecans," says Kayla Small of The Canned Food Alliance, who shares this recipe:
Ingredients
Vegetable oil spray
1 can (29 ounces) sweet potatoes in light syrup, drained
1 cup packed brown sugar, divided
3 large eggs, lightly beaten
1 can (5 ounces) evaporated fat-free milk
2 teaspoons pumpkin pie spice
1/3 cup chopped pecans
1/3 cup canned sweetened flaked coconut
1/4 cup all-purpose flour
2 tablespoons soft margarine or butter, melted
Directions
Heat the oven to 350°F.
Lightly coat a 9-inch square baking dish with vegetable oil spray.
Mash the sweet potatoes in a large bowl with an electric mixer or a hand potato masher until smooth.
Stir in 1/2 cup of the brown sugar, eggs, evaporated milk and pumpkin pie spice; mix well.
Spread into the baking dish; set aside.
Combine the pecans, coconut, flour, remaining 1/2 cup brown sugar and margarine in a medium bowl; mix well. Sprinkle evenly over the sweet potato mixture.
Bake for 35 to 40 minutes or until the top is browned and the center is just set.
Traditional whipped sweet potato casserole
Serves 6 to 8
This traditional take on sweet potato casserole is a sweet and crunchy treat.
Ingredients for base
3 cups mashed sweet potatoes
1 cup brown sugar
2 eggs, lightly beaten
1 teaspoon vanilla
1/2 cup milk
1/2 cup melted butter

 
Ingredients for topping
1/3 cup flour
1/2 cup brown sugar
1/2 tsp cinnamon
1/3 cup melted butter
1 cup chopped pecans
Directions
Combine first 6 ingredients. Pour into a buttered 1 1/2 to 2-quart casserole dish.
Mix remaining ingredients together and sprinkle over top.
Bake at 350°F for 30 to 40 minutes, until hot and browned.