5 Things you can do today to save money in the kitchen
Because you have to eat, finding ways to save money on your groceries may seem difficult, but the following five tips can help you cut back and save money in the kitchen. Set aside an afternoon and commit to organizing your kitchen to take advantage of some serious kitchen savings.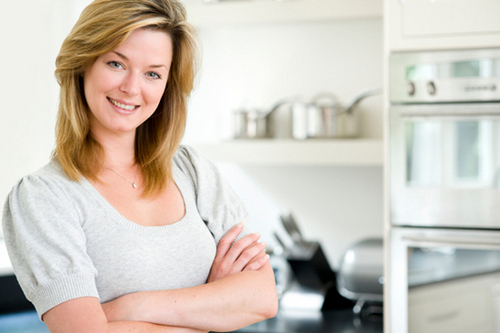 Get organized
Have you ever gone to the grocery store and purchased an item that you subsequently discovered you already had at home? By keeping your kitchen well-organized, you can prevent unnecessary purchases and avoid letting food go to waste. You'd be surprised at how much these two things end up costing you each year. Getting organized can lead to serious kitchen savings.
Start by going through your pantry and putting like-items with like-items. Stack all your canned goods, soups and dried items in one area. Place snacks in a second area and breakfast foods in a third area. Make sure spices, oils and other cooking items are kept together. You should have a pretty good idea of what foods or supplies you go through quickly, so keep a list of those items on the inside of your pantry door. As you run low on an item, highlight it on the list so you will remember to stock up the next time you're at the store.
Similarly, organize your freezer and fridge. Check expiration dates on all perishable foods and start labeling your frozen goods with the date that you place them in the freezer.
Freeze, freeze, freeze
You can extend the life of most foods by freezing them. This will save you money in two ways: first, if you notice a killer sale on eggs, milk, bread or meat you can stock up and store them for later use; second, if you have leftovers, you can pack them up and throw them in the freezer so your food won't go to waste.
Start your savings today by making sure that you have plenty of freezer bags or containers on hand. Then take about five minutes to go through your fridge and freeze any leftovers that you don't plan on eating immediately.
Look online
Some grocery stores offer special savings or discount coupons on their websites, or they may even allow you to automatically connect your member card to weekly coupon offerings. For instance, if you're a Safeway Club card holder, you can register your member number online and all in-store coupons will automatically link up to your account. This will save you time from clipping coupons, and it will guarantee you a better price on couponed items. Take 10 or 15 minutes to determine whether your favorite stores offer this type of service.
Plan your week
Check your fridge to see if any perishable items, like eggs or sour cream, are about to expire. Then, plan your weekly menu around those items, ensuring that you don't allow food to go to waste. After you've made your weekly menu, examine the ingredient lists for your menu items. See if you can flex the ingredients and substitute less expensive items, for spendy items like meat and alcohol. Finally, check to see if any of your local grocery stores are offering sales on the ingredients you're lacking. By shopping at the right stores, you could really save some cash.
Switch drinks
Take about five to ten minutes to figure out how much you pay each week for coffees, sodas, juice, sports drinks, wine, beer and other beverages. While you may not want to give up your favorite drinks, you can commit to steering away from the extra expense of individualized bottles. You can also purchase frozen fruit juices and powdered sports drink mixes to save money.
More meal planning ideas