3 Flavored biscuit variations
Who doesn't love warm, fluffy biscuits during the holidays? Sure, plain biscuits taste great, but these three flavor variations add a little something different to the holiday meal. Whether your family and friends like sweet, savory or a touch of spice, these three variations will add some new, delicious flavors to traditional holiday biscuits.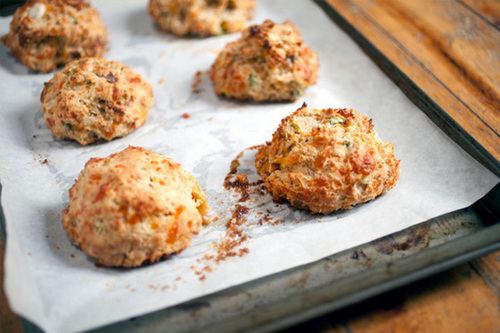 Biscuits are always a favorite holiday side dish. These three flavor variations may become a family favorite.
The first two recipes require a fair amount of prep time. The last recipe uses ready-made biscuit dough but is just as delicious.
Enjoy incorporating these flavored biscuits into your family's meal this holiday season.
Sea salt, black pepper and chive biscuits
Recipe courtesy of Captain Fairfield Inn in Kennebunkport, Maine.
Ingredients
1 cup all-purpose flour
1 cup cake flour
2 tsp baking powder
1/2 tsp baking soda
1 tsp sugar
1/2 tsp sea salt
1 tsp black pepper
1/2 bunch scallions, trimmed and chopped into small pieces (include both white and green)
8 tbsp unsalted butter, frozen, plus a little extra for brushing
3/4 cup cold buttermilk
Directions
Preheat oven to 450°F.
Whisk flours in large mixing bowl.
Grate frozen butter into flours and mix with hands until well distributed.
Whisk in baking powder, soda, sugar, salt and pepper. Add chopped scallions to buttermilk and then to flour mixture.
Gently incorporate wet into dry ingredients. When a dough has been achieved, turn out onto floured board and gently form into a rough square about 1 inch thick and cut into 8-10 squares.
Place on cookie sheet and brush with melted butter, sprinkle with coarse sea salt and black pepper and bake for 10-12 minutes, or until lightly brown on the top.
Woodlands signature cheddar and herb biscuits
Recipe courtesy of Woodlands Inn in Summerville, South Carolina.
Ingredients
1 1/4 cup buttermilk
1 tbsp chopped thyme
1 tbsp chopped rosemary
3 cups all purpose flour
2 tbsp baking powder
1 1/2 sticks chilled unsalted butter, cut into small cubes
2 tbsp sugar
2 tsp salt
2 cups grated cheddar cheese
Directions
Preheat oven to 375° F.
Mix buttermilk, thyme and rosemary in a small bowl; let stand for 5 minutes.
Whisk flour, baking powder, sugar and salt in medium bowl to blend.
Add cheese and butter to the flour mix; rub with fingertips until the mixture resembles fine meal.
Add buttermilk mixture and stir until soft clumps form.
Turn dough out onto a lightly floured surface; press out to thickness of 1/2 inch.
Using 2-inch round cookie cutter, cut biscuits.
Transfer biscuits to 2 ungreased baking sheets spacing 2 inches apart.
Bake for 10 minutes then reverse position of sheets and bake biscuits until golden brown and cooked through, about 8 minutes longer.
Transfer biscuits to racks. Serve warm or at room temperature.
Easy sweet topped biscuits
This is the biscuit recipe for the non-bakers in the family, or anyone who is short on time this holiday season.
Ingredients
1 pkg rolled biscuit dough, such as Pillsbury
Assorted sweet toppings, like honey, peanut butter and jelly or cinnamon and sugar
Directions
Prep and bake biscuits according to package directions.
Slightly cool.
Top with honey, peanut butter and jelly or sprinkle of cinnamon and sugar.