Simple suppers: 4 Quick takes on tacos
Tacos make a quick and fun meal for the whole family. And, because moms know that Bobby may like tomatoes while Suzy loathes them, you can save time and complaints by setting out bowls of fixings which allow your family to build their own tacos. It's an easy dinner everyone's sure to like!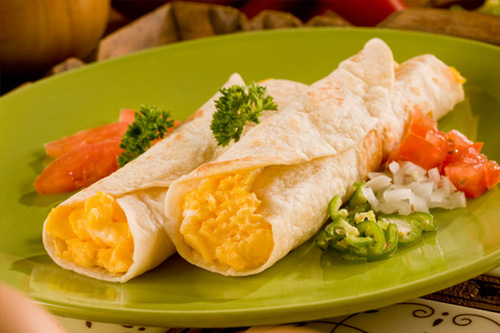 Breakfast tacos
A breakfast taco offers a simple, quick and portable breakfast option for you and your family. Also, if you're watching your waistline, you can easily substitute the eggs in this breakfast taco recipe for egg whites or egg substitute.
Ingredients:
Salsa
Shredded cheddar cheese
Eggs (2 eggs per serving)
Corn tortillas (2 tortillas per serving)
Salt and pepper (optional)
Cooking oil
Directions:
Heat skillet with a small amount of cooking oil.
Whisk eggs in a bowl, adding salt and pepper to taste.
Pour eggs into the skillet, cooking and turning the eggs until they're cooked through.
Place desired amount of salsa and cheese onto the center of the tortillas and warm in the microwave for about 30 seconds, allowing the cheese to melt.
Divide cooked eggs between tortillas and serve.
Consider serving breakfast tacos with fresh citrus fruit like oranges or tangerines.
California chicken tacos
California chicken tacos combine the fresh taste of avocado with grilled chicken, tomatoes and onions. For the vegetarian in your family, simply leave out the chicken for an equally tasty vegetarian option.
Ingredients:
4 boneless, skinless chicken breast fillets
3 avocados
1/4 cup diced onions
1/4 cup diced tomatoes
12 corn tortillas or taco shells
Finely chopped fresh cilantro leaves
Finely chopped romaine lettuce
Ranch dressing
Taco seasoning
Cooking oil
Directions:
Heat a skillet over medium-high heat with a small amount of cooking oil.
Preheat oven to 325 degrees F.
Dice chicken fillets and place in the skillet, seasoning with taco seasoning and turning regularly.
Mix lettuce and cilantro leaves and toss with ranch dressing.
Mash avocados and mix with diced onions and tomatoes.
Place tortillas in the oven on a baking sheet for 2 to 3 minutes, allowing them to heat through.
Remove the tortillas from the oven and spread with the avocado spread.
Top avocado spread with the lettuce/cilantro mix and place diced chicken on top.
Lime chicken tacos
Lime chicken tacos don't take long to cook, but you will want to start the preparation in the morning before work. Place the chicken breasts in a baggie with lime juice, garlic, salt and pepper and allow them to marinate in the refrigerator all day.
Ingredients:
4 chicken breast fillets
1/4 cup lime juice
Chopped garlic
Salt and pepper, to taste
Jalapeno juice
Fresh salsa
Monterey Jack cheese, shredded
Cooking oil
Crunchy taco shells
Directions:
Dice chicken and let it sit in a baggie with lime juice, salt, pepper and garlic for 6 to 8 hours.
Heat skillet to medium-high heat with a small amount of cooking oil.
Heat oven to 325 degrees F.
Pour chicken and juices into the heated skillet, adding jalapeno juice to taste and cooking until the chicken is cooked through.
Place taco shells in the oven, allowing them to heat for 2 to 3 minutes.
Fill the bottom of the taco shells with fresh salsa and Monterey Jack cheese.
Top the taco with cooked chicken.
Beef tacos
Ground beef tacos make super quick and easy meals. When you only have about 15 minutes to throw together dinner, look no further than this taco feast.
Ingredients:
Taco shells of your choice
1 pound ground beef
Taco seasoning
Shredded cheese of your choice
Diced tomatoes (optional)
Diced onions (optional)
Guacamole, (optional)
Sour cream (optional)
Shredded lettuce of your choice (optional)
Salsa (optional)
Directions:
Heat skillet with a small amount of oil.
Season ground beef with taco seasoning and place in the skillet, browning and turning often.
Heat oven to 325 degrees F, heating taco shells for 1 to 3 minutes, once oven is heated.
Place optional ingredients into bowls on the counter, available for use.
Fill taco shells with beef and cheese, and then allow your family to add any extras they want.
More Mexican recipes
Turkey tacos with mango salsa
Mexican rice pudding
Mexican calabacitas with lime infused sour cream