How to brine a turkey
Though plopping a whole turkey into a pan and roasting it with a little salt and pepper is the most basic way to get a bird on your Thanksgiving table, brining a turkey will make your turkey centerpiece so juicy and flavorful, you'll be wondering why you haven't brined your holiday turkey before. And if you've thought about it but have been intimidated by the brining method, fear not, here's an easy guide on how to brine a turkey.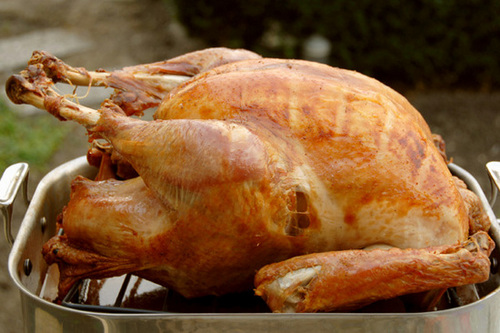 Brine for flavor and juiciness
Brining is the best way to serve your holiday guests a juicy, flavorful turkey. Brining requires soaking the turkey for 12 to 24 hours in a balanced water and salt solution that also contains a variety of herbs and spices. Brining makes the turkey meat moist because the brine increases the amount of liquid in the cells of the flesh. A marinade with water alone cannot increase the moisture of the cells.
How to brine a turkey
Plan ahead
Your Thanksgiving turkey needs to sit in the brine for 12 to 24 hours in your refrigerator and then rest for 12 to 24 hours in your refrigerator before roasting. A good timeline is to place the turkey in the brine two days before your holiday feast. The turkey will take up a large portion of your refrigerator, so plan accordingly.
Prepare your turkey
For best results, start with a fresh or thawed turkey. Remove the bag of giblets and neck from the turkey cavity and trim off any excess fat from the skin. Remove any bindings on the legs and rinse the turkey with water inside and out. Pat dry.
Prepare your brine
Since salt is a significant component in successful brining, I've included the name of my favorite salt in the brining recipe below. Different brands of salt have different size crystals and can ultimately make or break your brine. The same volume of a salt with a smaller crystal will make a brine too salty; salt with larger crystals, not salty enough. Diamond Crystal is my choice because it is pure sodium chloride that doesn't contain any caking agents or other minerals.
Double bag it
Brining a turkey in turkey roasting bags set in a roasting pan is easy and space efficient. You'll need two turkey roasting bags, one inside the other, and a large roasting pan (which you have on hand to roast the turkey). Place turkey in the double bag and fold down the opening. Add brine and two cups of cold water. Close the inner bag around the turkey, removing as much air as possible, and tying it securely with a twist tie. Close the outer bag in the same fashion.
Brine time
Place turkey in the roasting pan, breast side down, and set in the refrigerator for 12 to 24 hours. Turn the turkey a few times during the brine time. Remove the bird and discard brine and any solids. Rinse turkey and pat dry.
Let the turkey rest
Before its big holiday table debut, let the turkey rest in the refrigerator for 12 to 24 hours. Place it back in the roasting pan and refrigerate until ready to roast.
Honey spice brine for turkey
This brine recipe is sufficient for a 12 to 25 pound turkey. Vary the herbs and spices to your tastes.
Ingredients
2/3 cup Diamond Crystal brand kosher salt
1 cup honey
6 whole cloves
1 teaspoon whole juniper berries, crushed
1 teaspoon black peppercorns, crushed
2 teaspoons whole allspice berries, crushed
5 fresh sage leaves
2 bay leaves
8 cups hot water
4 cups ice water
2 cups cold water
1 (12 to 25-pound) turkey
Directions
To make the brine: In a large saucepan over high heat, stir together the salt, honey, cloves, juniper berries, peppercorns and allspice. Stir in the sage and bay leaves along with the hot water. Bring to a boil, stirring frequently until the salt and sugar have dissolved. Boil for 3 minutes, then remove from the heat. Add the ice water and stir to cool the mixture. Set aside and let cool to room temperature.
Place a turkey roasting bag inside another to create a double thickeness. Place turkey in the double bag and add cold water. Seal the inner bag, removing as much air as possible, and securing it with a twist tie. Do the same with the outer bag.
Place turkey breast side down in a roasting pan and refrigerate for 12 to 24 hours, turning turkey 3 to 4 times while brining.
Remove the turkey from the brine and discard the bags, brine, and any solids. Rinse the turkey under cold water and pat dry with paper towels. Place the turkey back in the roasting pan and refrigerate for 12 to 24 hours. Remove from the refrigerator and roast.