How to organize a fix and freeze meal swap with your friends
You know when your freezer is deliciously stocked with a variety of entrees, side dishes and desserts, you've got the makings of a homemade meal that can be easily reheated to feed your family. But if you find yourself making the same list of fix and freeze meals, your family is going to grow bored with your genius time-saving meal planning. To keep your taste buds tantalized, organize a fix and freeze meal swap with your friends so you'll get a tasty array of novel make-ahead meals. Here's how.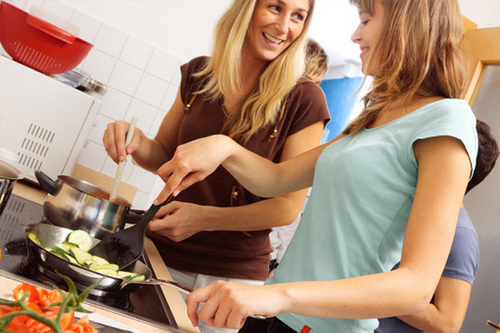 Make a list of fix and freeze friends and set a date
Family, friends, neighbors and even coworkers can become culinary assets for your fix and freeze meal swap. (Particularly if you invite the people who make your mouth water with their dinner stories!) Set a swap date that doesn't conflict with any holidays, birthdays or other events that may interfere with your guests' attendance.
Send out fix and freeze meal swap invitations
You can go green and send out e-vites or you can be creative and send out invitations to your potential swap mates on recipe cards. Invite your guests to bring a main course, side dish and dessert that have an affinity for being made ahead and frozen for a future meal. Be sure to tell your invitees that they will also go home with a three-course fix and freeze dinner. It won't hurt to remind your guests that a fix and freeze meal swap is also a creative excuse to get together.
Ask for fix and freeze extras to make the party a success
Since you don't want to spend hours prepping for your party, ask your guests to bring a finger food that can be eaten during the swap. Ask them to bring their dishes in a cooler with ice packs so none of the fix and freeze meals are left at room temperature (your freezer will likely be too small to hold all of the make-ahead meals that get brought to the party). In addition, request that guests label their dishes to include: name of dish, date made, and thaw/reheat instructions.
Set up your home for meal swap fun
If your invite list only has a few people on it, simply clear off your kitchen counter and/or dining table. Set aside space for the finger foods, accompanying plates and napkins and party beverages of your choice. Set up any extra seating, if necessary. Also, a fun way to swap meals is to plan party games that let the winner get first dibs on dishes.
Fix and freeze meal swap party games
Once your guests have arrived and mingled around the finger foods, give each guest three index cards (one for entrée, one for side, one for dessert) and have them write down their dishes. Place index cards neatly on the counter or dining table.
Let the party games begin
Food trivia: Make up your own food questions or check out foodie games such as Food Lover's Trivia. The winner of each round gets to choose an entrée, side or dessert. You can play until all guests have redeemed their three-course meal. Really smart foodies will have to sit out once they have acquired their three dishes.
Funny food charades: Divide the group into two teams and play a game of food-related charades. Not only will this challenge guests to be creative in their art and body language, it will undoubtedly get guests laughing. The winning team gets first dibs on dishes.
Kitchen gaffe name draw: The easiest way to swap food is to simply put all guests names in a bowl and draw one at a time. To give this game a fun update: when someone's name is drawn, that person has to tell the group a kitchen blunder story (singed hair from leaning too close to the stove, cake explosion in the oven, etc).
Safety first for your fix and freeze meal swap
Make sure all frozen foods stay frozen during the party. Setting all the frozen foods out on the counter and table puts them at risk of thawing while you are playing games. Using the index cards with the names of dishes will allow guests to choose a food without having to actually bring it out of the coolers or freezer. Instruct guests to get their dishes home and in the freezer as soon as they leave the party.
More timesaving tips