How to make a perfect pancake
Beloved for breakfast, pancakes are one of the most satisfying breakfast meals, especially when buttered up and dripping with maple syrup. Though pancakes aren't labor-intensive, they do require a few tricks to become the symmetrically round, fluffy, yummy breakfast treats we so desire. Here's how to make perfect pancakes your family will love!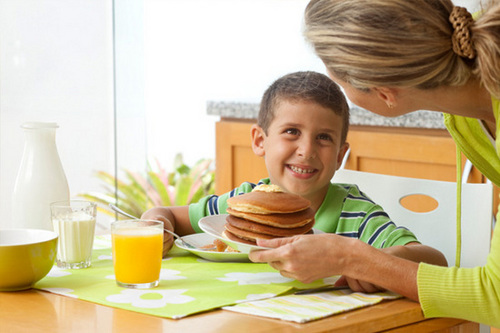 Batter up
The easiest start to pancakes is a premade pancake mix, but you can just as easily whip up a homemade recipe. The key is to follow the directions, whether they are on the pancake mix package or from a favorite recipe. Too much liquid results in runny thin cakes; too much flour produces pancakes that are thick and heavy. If you are winging wet and dry ingredients, aim for a batter with the consistency that will coat the back of a spoon and slowly drip off.
Mix lightly
When mixing your pancake batter ingredients, use a light hand. Overmixing will cause pancakes to be tough. Mix ingredients just until moist and combined – a few lumps are fine. Remember, the goal is fluffy pancakes.
Heat it up
The proper griddle or skillet temperature is essential for pancake success. Start with medium temperature. Your griddle or skillet is hot enough when a few drops of water dance on the surface. You can also try a test pancake; the right temperature will result in a pancake that lightly browns on the bottom while bubbles on the surface rise and burst. The temperature is too high if the bottom browns too quickly.
Measure and pour
In addition to getting symmetrically round pancakes, you can achieve same-size pancakes by using a measuring cup with a spout or a ladle. Try one-fourth to one-half cup measures, depending on the desired size of pancakes. Small pancakes are fun for kids while larger pancakes will fill an adult's breakfast comfort food hunger. Pour into one spot on the griddle or skillet instead of pouring in a circular motion.
Keep your eye on the pancake
No need to continually flip your pancakes in hopes of the perfect golden color and texture – in fact, flipping more than once increases the odds you are going to damage your perfectly shaped 'cake. Pour batter onto griddle or skillet and watch it for 2 minutes or so. Pancake is ready to flip when its edges have set and the bubbles forming on the surface have just started to pop. Flip and cook for 1 to 2 more minutes or until golden on the second side.
Keep warm
Set your oven on the WARM setting or at the lowest temperature before you start making your batter. Place cooked pancakes on a baking sheet in the oven in a single layer to keep them warm while you finish up all of your batter. This ensures everyone gets a warm plate of pancakes when it's time to eat this breakfast favorite.
Decorate and garnish your pancakes with your favorite toppings. You can even make extra and place completely cooled pancakes in freezer bags layered with parchment, and freeze for an easy breakfast later in the week.